Not sure if it works in your market?
... Here's our "Wall" of Successful Clients:
"Ryan and his team are incredible! Best in the business! I have landed so many properties because of them."
"We've actually had to slow down because we've gotten more leads than we have time to handle ... We've had multiple people tell us that they get hundreds of letters but reached out to us because ours was hand written!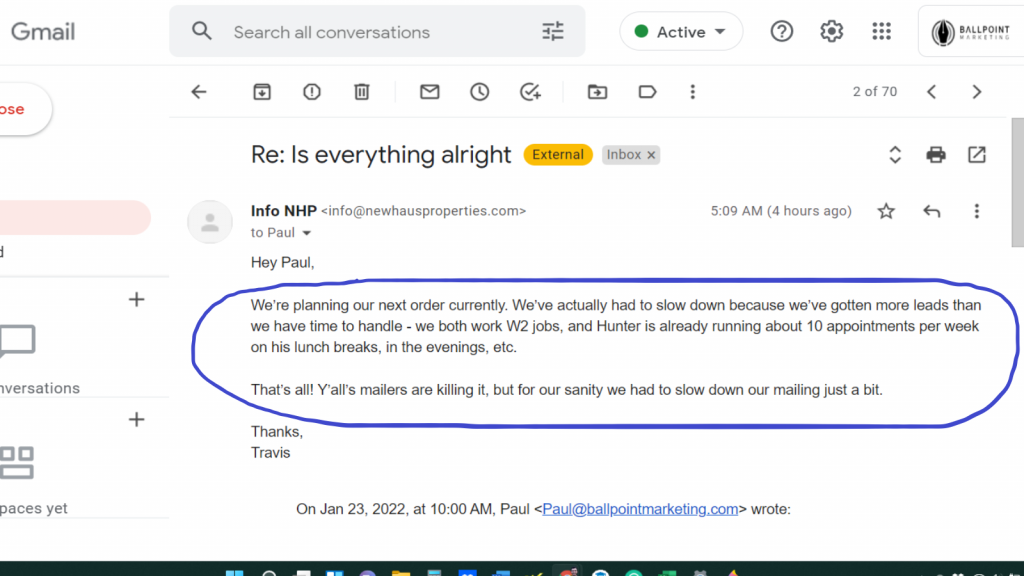 "Ballpoint Marketing is the real deal. They produce an amazing product that is unparalleled in the industry.

Bottom line, their product helps investors get and close more real estate deals."
"BPM letters are critical to helping us stand out in our very competitive market.

On every appointment we go on we always hear things like:

'I love the handwritten letter!'
'That's such great marketing!'
'They really made you seem more legit!'

We've even heard numerous times from sellers that they get letters regularly, but we were the first ones they have ever called.

We've tried cheaper marketing and got what everyone else got... silence. If you're going to try direct mail, do it right. Use BPM"
"We have been using ballpoint for over a year now and it's been our biggest lead generation tool.

We would not be where we are at today without them!

I have acquired 24 doors just in the past year and have flipped over 10 houses that have all came from ballpoints marketing.

Highly recommend these guys and will continue doing business!"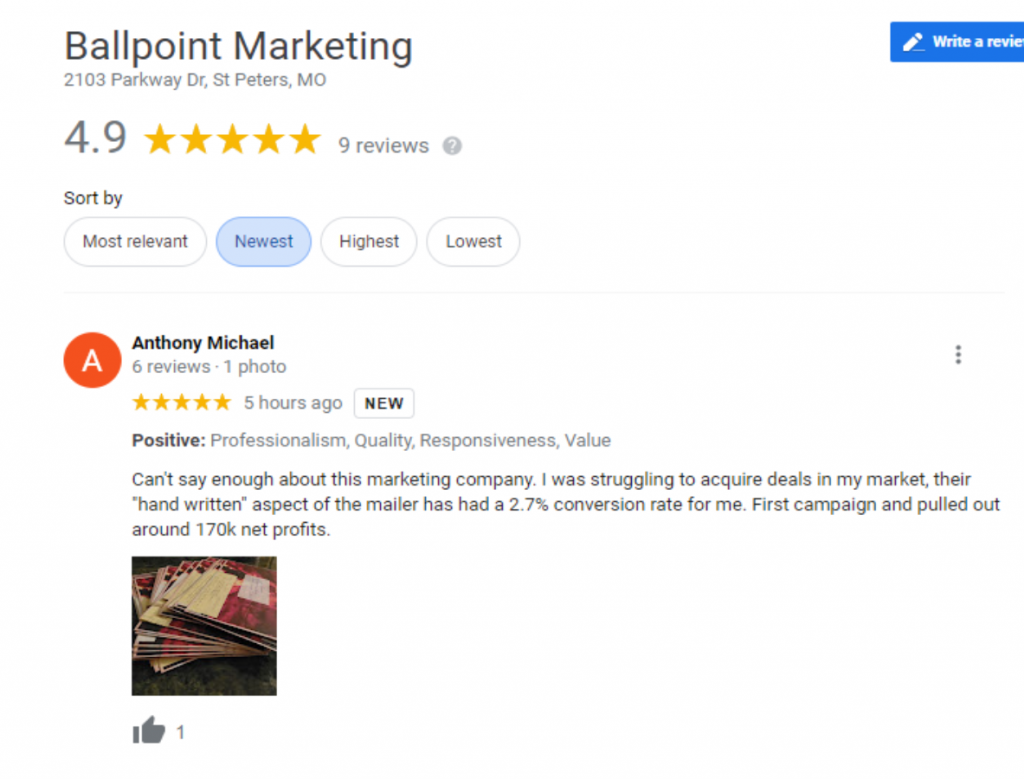 "I have used multiple different vendors for direct mail in times past, but none of them have offered the level of service, quality, and response rate that I am currently receiving with ballpoint marketing.

So glad that we connected, and will absolutely continue to use!"
"[BPM letters] ARE my deal flow, haha. Almost every deal I've landed over the last year has been from BPM!"
"Dropping
mail
is
now
more
exciting
to
me
than
cashing
checks
and
that
feels
like
a
real
win
"
We closed on our first flip yesterday. It took us 5 weeks to get it done and seller get our mailer in November 2021 and called us in April 2022. It was senior owner with equity
"I was struggling and miserable. I was desperate to find something that worked... I tried mailers before (postcards, letters through Propstream, my own letters, mailers from my title company, etc.) and not one form of those worked. They were all terrible quality and we didn't get one call back.... To my suprise, after just sending out my first box which was only a little over 500 (I was scared to buy more than that), we got 3 deals."
"Early on in my business I got several deals from online leads and kind of wrote off sending mail. If I'm being completely honest I still don't like direct mail, but I've gone back to it to add consistency to my lead flow and business. I've sent around 10,000 pieces and that's resulted in 3 deals so far. Oh yeah, and one of those deals plans to sell me their other 4 properties.

It is not uncommon for me to have an appointment where the homeowner tells me they have received mail for years but I'm the first one they've decided to call.

The quality of the mail pieces fits so well with the mission and vision of my business; the seller's immediately feel valued and cared from the moment they open my letter.

Ballpoint has helped me standout in a competitive market and I'm grateful to be an example of direct mail still working."
"BPM has really exceeded my expectations when it comes to direct mail. I've used different companies before and the response from the handwritten letter has been ridiculously high. Totally surprised me.

Because of their handwritten letters I got my first deal with only 500 letters dropped in the first week."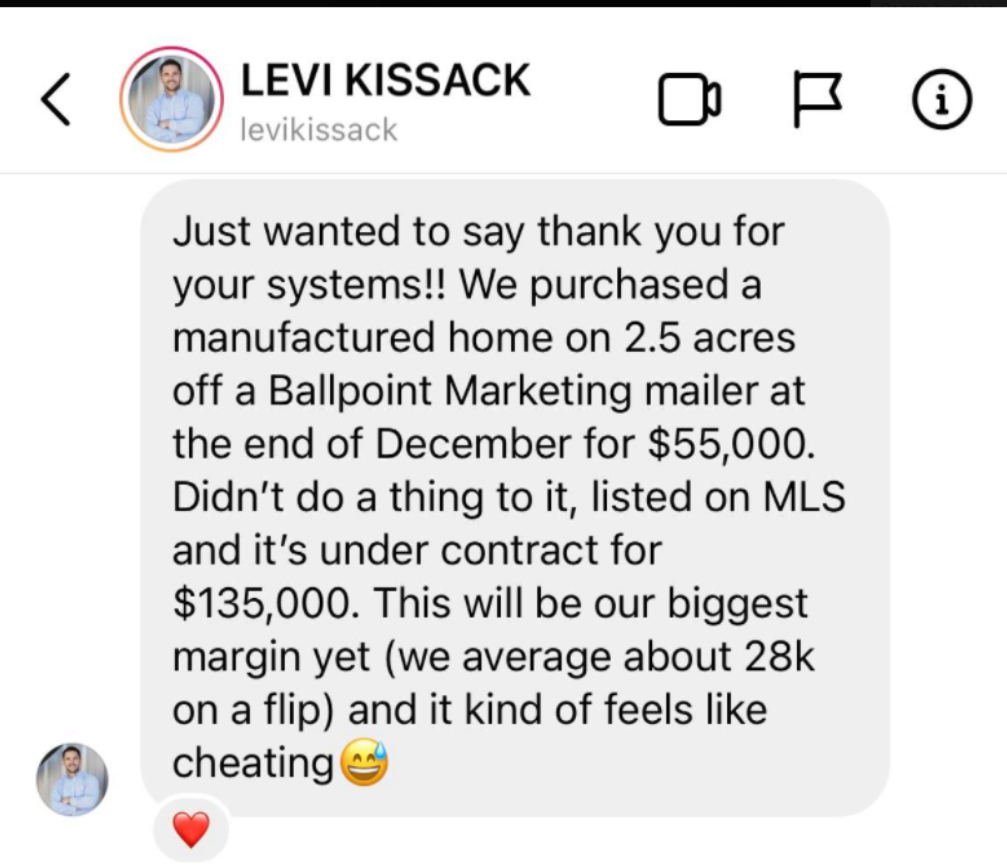 "First [BPM] Deal!!
PP - 425k
Reno - I ran numbers @ 75k but honestly think we will be able to keep it closer to 50k
ARV - 700k (conservative)
This one happened quick for me: BPM - Absentee Owner (1st campaign and I had only sent out 2k of my 3k letters for my first campaign)... - Taylor Douglas
I'm backed up with leads. I need to hire some help with taking calls, and going on appointments. I'll always use BP. I just need to get a hold of these leads and find help.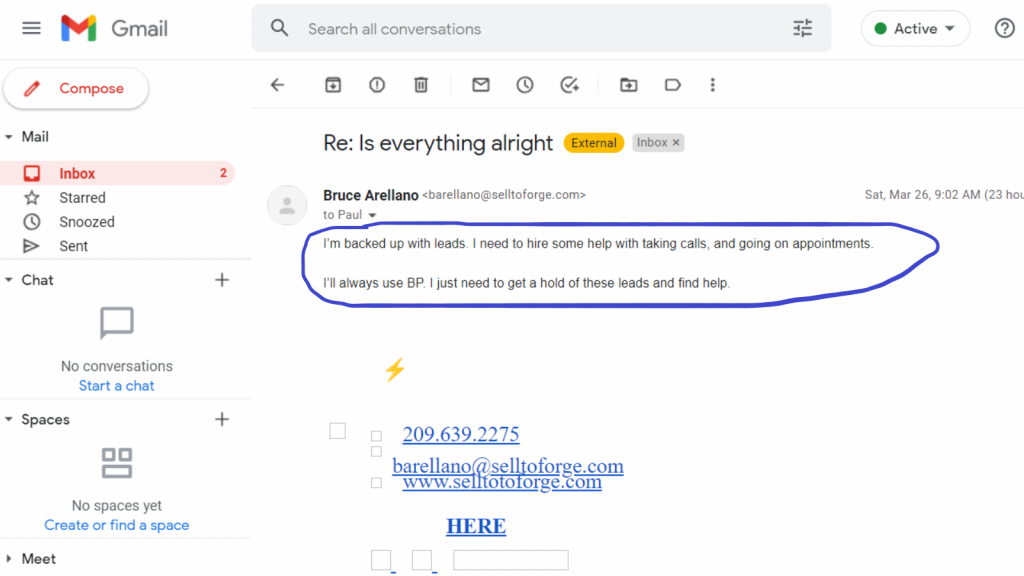 I have used Ballpoint Marketing 4 times and each time it has been great. The first time, my phone rang off the hook, so much that I was not able to keep the leads straight... I recommend all products from this company. I have spent thousands of dollars at other mail companies and got ZERO deals. No joke. But so many people send the printed stuff, so I understand why those did not work. It was worth every cent to use BPM.
This one is a great example of why BPM's custom mailers hit different than the sketchy and cheap looking mailers. The seller told me he received about 6 different mailers, but only called me because I looked like the only legitimate company. I did have to compete with Open Door which made me raise my offer, but still beat them out with a lower number.
Only had one piece of mail returned to me without postage on it. Other than that, the marketing works fantastic! Having more leads than I can honestly keep up with right now haha

Visit our FAQ page for questions most commonly asked by investors like you . Or if you would like to talk to someone our team, hit the chat button and send us a note.