Direct-Mail Marketing Strategies Designed To Increase Your Response Rates.
Ballpoint Marketing is a leading provider of direct mail for Real Estate Investors, Agents, Insurance companies, and non-profits.
Specifically engineered for investors by investors, we ran underground tests for 3 years in some of the most competitive markets in the US.
The results unabashedly spoke for themselves! Our clients have seen increased response rates averaging 1 to 1.5% with higher conversion rates on deals as well.
Actual handwritten messages with real ink and imperfections is where the magic is!
During our 3 year testing phase, we discovered envelopes with an intentional design peaked the interest of recipients. Handwritten envelope address labels made them feel personal and safe (less spammy).
Lastly, when a recipient opens the envelope and sees a fully handwritten (personal) note about their property on a beautifully-designed (and branded) watermarked insert , a level of trust was established before they even picked up the phone to call.
The caveat? No one has time to sit down and write 500 letters, let alone 10,000!!
Enter the ROBOTS! Yep, you heard us right.
We have an army of happy robots that write with blue ballpoint pens using real ink. The beauty of ink is that it's imperfect, and our mailers look so authentically handwritten that no human can tell that it was written by a robot.
This means you can scale your direct mail game as much as you like, and get crazy results that feel local and personal to your market.

Investors who cracked the code.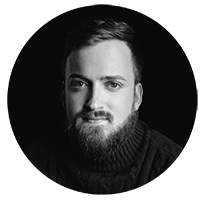 Ryan Dossey
Founder / Investor / Entreprenuer
Ryan launched Ballpoint Marketing after using this same system in his own real estate investing companies. It was his best kept secret. But after seeing repeatable & consistent results (and begging from peers), Ryan decided to launch Ballpoint publicly to share the gold!
Justin Dossey
CEO / Director of Operations
Justin is the CEO of both Ballpoint Marketing and Call Porter. He has scaled multiple businesses past 7 figures and loves helping clients do the same. Justin is a husband and father of 3 who enjoys being outdoors including camping, 4 wheeling and fly fishing!
Click through to the catalog to get started.
After testing for 3 years, we're so confident in this product that we use it ourselves and have grown our own deal funnels with this unique marketing system.
No gimmicks…this just works!