Driving for dollars is one of the best ways for real estate investors — wholesalers, house flippers, buy-and-holders, etc. — to find deals.
In this guide, we'll show you what it is and why it's so powerful.
Then we'll show you 9 hacks for getting more "mileage" out of your driving-for-dollars strategy.
Let's dive right in.
What is driving for dollars?
Driving for dollars is a real estate investing strategy that involves driving (or walking) around neighborhoods and scouting out potential deals.
The idea is to look for properties in distress: abandoned homes, houses with broken windows or boarded-up doors, "for sale" signs from desperate owners, etc.
Here are some other common signs of "distressed" properties…
Lawns that haven't been mowed in weeks or months
Paint chipping off the outside walls
Overgrown shrubs and gardens
Peeling roof shingles or other structural damage
Cracked driveway
While you're driving for dollars, you write down the address for all the distressed properties you find. Then once you're back home, you can skip trace to find phone numbers and cold call the owners or send direct mail (both are common strategies).
But… why is this so important?
After all, you can just pull mailing lists from somewhere like Propstream without driving around local neighborhoods.
The answer has multiple parts…
First, because data is never perfect… and so some of the addresses you pull might not actually be vacant or have absentee owners (even though that's what the data says). You're wasting time and money when you reach out to people who don't fall into the expected category.
(We're not saying don't do it… we're just pointing out the impreciseness of pulling data…)
Second, and more importantly, the data you pull is probably also being pulled by other investors in your area (your direct competitors). This means that those people are receiving "cash offer" mailers from multiple investors and the chances that they choose you is just a toss of the coin.
Driving for dollars allows you to build your own custom list of distressed properties — ones you've actually seen for yourself. The data, then, is far more accurate for targeting motivated sellers… it's far more updated… and it's far less competitive.
Having said that, the most successful real estate investors don't just rely on driving for dollars… and they don't just rely on pulling data from data providers…
They do a little of both.
Only you can find the right balance for your own business, but we recommend consistently pulling data through a source like Propstream and consistently driving key neighborhoods in your area of operation.
You never know where your next deal is going to come from.
But the more active you are in trying to find it… the faster it'll arrive.
Here are 10 hacks to get more "mileage" out of your driving-for-dollars strategy.
1. Find The Best Neighborhoods
If you're new to driving for dollars, one of the first things you might wonder is… exactly which neighborhoods should you start with?
Obviously, some neighborhoods provide more opportunities for real estate investors than others. And it's in your interest to spend more time driving those neighborhoods.
Here's an idea…
What if you could pull your normal mailing list (say, absentee + vacant) and tag those properties on a map to figure out where the neighborhoods with the most opportunities are at?
Here's a video showing you how to do just that for free with Google maps…
There is actually more than one benefit to doing this.
First, it'll give you the opportunity to look at some of the properties on the data you pulled to see if they actually appear to be vacant. As we mentioned earlier, data is never perfect. So you might be able to filter out some properties after seeing them in-person that clearly don't fit your criteria.
Second, if you focus on driving the neighborhoods where the biggest groups of vacant properties are… you're often going to find vacant or distressed properties that weren't on your pulled list. That's an opportunity your competitors probably aren't aware of.
2. Use Door Hangers
A lot of real estate investors make the mistake of writing down addresses while they're driving for dollars, but not taking a moment to put something on the door of each distressed property.
For instance, a hand-written sticky note that says something like…
"Hi. My name is Mike. I'm looking for a property to buy in the area soon, all-cash. Give me a call if you're interested in selling."
The reason is obvious.
It's time-consuming to hand-write a sticky note for every distressed property you find — you can often find a hundred or more distressed homes with just a couple hours of driving for dollars.
We've got the solution here at Ballpoint Marketing.
We created these hand-written (by robots, with real pen-and-ink) door hangers that catch the eye and get record-high response rates.
Put these on the door of any distressed properties you find when driving for dollars and thank us later. You can order yours for just $0.55 a piece over here.
3. Hire Drivers
Most real estate investors treat driving for dollars as a supplemental deal-finding strategy.
They just do it when it's convenient — during their afternoon walk or their drive home from work.
That's not bad.
But for those who want to dive deeper… there's a ton more opportunity.
In fact, some investors hire people to drive for dollars for them, writing down addresses and taking notes on distressed properties for a few hours every single week.
What's great about this it's cheap (you can usually just pay people minimum wage) and, if you do it consistently, it ensures that you're always ahead of the curve.
That is, you're going to find out about potential opportunities far sooner than your competitors who only rely on pulling data.
You can start by hiring just a couple of drivers and paying them for 2-5 hours of driving per week each.
It's a great way to stay ahead of the competition, get more deals, and grow your business faster.
Pro Tip: Another thing some investors do is pay mail delivery people, trash collectors, or UPS drivers to write down addresses (and notes) for distressed properties when they find them. You can give them a commission on each property they send you that turns into a deal or just pay them a flat rate per address they send your way. Either way, it's a good incentive to get them to do your driving for dollars footwork for you.
4. Track Your Routes
You don't want to just drive around aimlessly. That's a waste of time and gas money.
Instead, you need to plan out your routes in advance — mapping out key streets, neighborhoods, and areas where the most distressed property opportunities are likely hiding.
(Check out our first tip for finding the best neighborhoods)
You also need to track the routes you've driven and when you last drove them — so you don't duplicate your efforts and waste time.
As you might imagine, the more you drive for dollars, the messier things get and the easier it is to forget which routes are which.
We recommend using an app like DealMachine to keep things organized.
It allows you to track your routes, tag properties with specific characteristics, and add notes about each of the properties you find (which streets they're located on, what condition they were in, etc). You can even schedule and send direct mail right inside their app.
It's a great tool for smart, organized driving for dollars. Learn more about it over here.
5. Send Handwritten Mail
So you've mapped out routes, hired drivers (or gone driving yourself), and compiled a list of distressed property addresses.
Maybe you even put out some hand-written door hangers.
Now what?
It's time for marketing.
And one of the best things you can do is send handwritten letters to each address on your list — letting them know that you're interested in buying their property and offering to give them more information.
I'm not talking about letters with fonts that are supposed to look like they're handwritten. I'm talking about robot-written letters with real pen-and-ink (that's what we offer at Ballpoint Marketing).
These mailers, for instance, catch the eye and get a record-high response rate for investors all around the nation.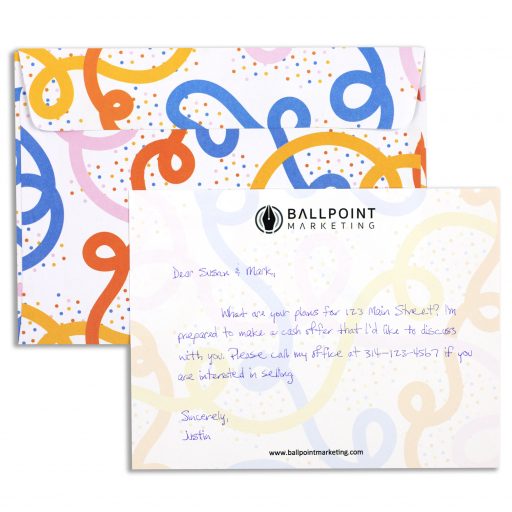 Handwritten letters are much more effective than mass-emailed or printed letters. They stand out, they get noticed, and they show that you've put effort into reaching out to them personally.
It's a great way to increase your response rate and start conversations with potential sellers.
Get yours here and upload your list. We'll mail them to your door and you just have to take them to the post office (that way, they all get your local postmark and increase the feeling of authenticity!).
6. Take Detailed Notes
When we introduced driving for dollars earlier, we indicated that it's as simple as driving around, looking for distressed properties, and writing down addresses.
But if you aim to get as much "mileage" as possible out of your efforts, then there's a bit more to it than that.
Specifically, it's a good idea to take specific notes about each property you write down.
For instance…
What condition is it in? Does it looks vacant or occupied? Are there any signs of neglect, such as unkempt lawns, broken windows, etc.? Who are the neighbors? Is it a residential or commercial property?
Write down address, yes.
But also write down what exactly is wrong with the property.
This serves two purposes.
First, you can use these notes when reaching out to sellers — discussing candidly the problems they're facing with their home.
And second, you can actually sell those lists to certain contractors who do cold outreach. You get your list and they get theirs — it's a win-win.
7. Skip Trace & Cold Call
Now that you've got a list of property addresses, it's time to reach out.
One way to do that is through direct mail (as we discussed earlier).
Another way is through skip tracing the addresses you find and cold calling the homeowners.
Skip tracing is the tactic of using public records and other resources to unearth a person's contact information — you can use software like Propstream to skip trace your data and get phone numbers.
Once you have that information, you can call them up and ask about their property and even make an offer for it on the spot.
It's a great way to get fast responses from sellers, which is especially helpful if you're looking to close deals quickly.
P.S. If you're new to cold calling, check out our cold calling guide over here, complete with real-life video examples of investors cold calling their prospects.
8. Answer The Phone (When it Rings)
This one might seem obvious.
But it's important.
You don't want to do all of this work — driving, taking notes, sending direct mail — for nothing…
But if you don't answer the phone when your prospects call you, you're going to miss out on a lot of opportunities.
Make sure that you have a dedicated phone line and voicemail setup for all of your real estate investing calls, and answer it as soon as you can (or, if you're busy, hire a virtual assistant to do the job for you).
Better yet, check out Call Porter, a live answering service specifically for real estate investors. They'll take your inbound calls, qualify prospects, and schedule a follow-up call with you or your acquisitions manager.
9. Revisit Routes Every 3-6 Months
The market is always shifting.
And what may have been a normal property might actually be in distress a few months down the road.
That's why it's important to revisit routes every few months — at least six, but preferably three — so that you can stay ahead of the curve and find opportunities before anyone else does.
Set aside time in your schedule and make sure you're revisiting the same routes.
Final Thoughts
When it comes to doing the legwork to find your off-market deals, few strategies are as tried-and-tested as driving for dollars.
But driving around aimlessly writing down addresses only scratches the surface of what is really possible with this common real estate investor marketing strategy.
You can use the above 8 hacks to get more mileage out of your driving for dollars efforts — track your routes, leave door hangers and send direct mail, skip trace and cold call, and take detailed notes.
If you do that, you'll always be one step ahead of your competitors.