Wholesaling is 90% acquisitions (finding deals) and 10% dispositions (off-loading deals).
HOWEVER…
That's a hefty 10%.
Because if you don't have great cash buyers to "dispose" of your deals according to the seller's timeline, then wholesaling becomes a lot more difficult.
In this guide, we'll discuss proven strategies that real-world wholesalers use for finding great cash buyers. But before we get into that, let's talk about the three qualities that make a cash buyer "great".
By the way, we have a gift for you. We know you're here to learn about cash buyers… but real estate investing is so much more than that. Below, you can enter your email to get some proven marketing strategies from real investors.
3 Qualities of an A+ Tier Cash Buyer
There's a big difference between someone who says they can buy your deals… and someone who can actually buy your deals.
As you'll quickly realize, there's a lot of BS out there in the real estate investing world — posers, for instance, who claim they are big-time investors capable of buying all the deals you toss their way.
How do you separate the wheat from the chaff?
Here are three qualities to look for…
Access to Cash — Great cash buyers have deep pockets themselves or fast access to lots of capital. They don't have to wait for weeks or months to close on properties. They love good deals and they're capable of scooping up good opportunities that wholesalers send their way — not just one… but many.
Proven Track Record — They don't just claim to be a real estate investor with access to lots of cash, their claim is provable. You can easily look up their property ownership and see that, ideally, they own quite a few rentals. The more real estate investments they have under their belt, the higher quality cash buyer they are likely going to be.
Highly Responsive — They aren't difficult to get ahold of. They do what they say they're going to do, they are highly respected in the community, and they are straightforward with you about the deals you send their way. They don't operate off of hype and big promises… but off of facts and good judgement.
If you're not able to prove those three qualities on a cash buyer, it still might be worth adding them to your email list (because who knows?)… but until you're able to verify their track record and their access to cash, we'd highly advise not counting on them to come through.
1. Find Great Deals
This first strategy for finding cash buyers is a little bait-and-switch.
A little.
But the truth is that you're not going to attract great buyers unless you have great deals.
In fact, promoting shoddy deals to high-quality buyers will only hurt your reputation with them.
The good news is, the opposite is also true.
If you have great deals… then you'll almost always be able to find great buyers who are willing to buy them — great deals are great deals.
(Here are some tips for finding motivated sellers)
Focus on finding excellent deals and you'll be surprised at the quality of buyers you'll naturally attract.
2. Property Auctions
This next method is the best piece of advice you're going to get in this article.
Property auctions — foreclosure auctions, tax auctions, etc. — happen on the courthouse steps and often require bidders to…
Have cash on hand — This means the investor has access to a good bit of cash.
Buy sight unseen — This means the investor is serious about buying good deals. They're not tire-kickers.
See why these people are so valuable?
They meet our A+ criteria just for the fact that they've attended the property auction and they're bidding on properties.
You're looking for the people who raise their hand the most (maybe even to buy multiple properties).
Introduce yourself (be tactful… don't talk to them during the bidding) and tell them that you're a local wholesaler. Ask if you could get their information to send them deals every now and again. If they have some time, ask them about the specific type of properties they're looking to purchase.
This is the single best way to find high-quality cash buyers.
And it's 100% free.
3. Steal Your Competitor's Buyers
What if you could dig into the data and find the cash buyers that your competitors are working with?
That would unveil a treasure trove of opportunity.
Check out the video below to see how Ryan Dossey (ethically) finds his competitor's most active cash buyers…
4. Propstream, List Source, & MLS
If you're looking for a more direct way to connect with potential cash buyers, you can always buy a list of investors from one of the many list providers out there.
Propstream and List Source are two of the most well-known, but there are many others tools where you can pull lists of cash buyers for a reasonable fee.
Alternatively, if you have access to your local MLS, you can pull a list of cash buyers that way as well.
How?
Check out the video to learn how Ryan Dossey uses these three tools to build a list of high-quality cash buyers.
5. Property Management Companies
Networking with the managers or owners of property management companies can be quite fruitful when it comes to finding cash buyers.
These companies manage properties for big and small real estate investors alike — investors who very well might be on the lookout for more properties to purchase.
Some of these property management companies will even have cash buyers on staff who are looking for new properties to purchase (this is especially common with larger firms).
Reach out to a few local property management companies and introduce yourself. Tell them who you are and what you're doing. Ask if there might be any investors on their staff or in their network who would be interested in seeing the deals you have available.
This is a great way to find cash buyers who are already in the business of buying and selling real estate.
6. Closing Attorney's & Title Companies
Every real estate transaction includes a few key players — the same key players.
Closing attorneys and title companies help facilitate the sale of properties by ensuring that all of the paperwork is in order and that the property transfers ownership properly.
In other words, they are connected with a lot of investors and potential cash buyers.
If you can build a good relationship with a closing attorney or title company, they may be willing to give you a list of their repeat investors who are always looking for new properties to buy.
This list can be extremely valuable because you will have a direct line to potential cash buyers who are already interested in purchasing properties in your area.
To find a closing attorney or title company in your area, simply do a Google search for "title companies near me" or "closing attorneys near me."

Make a list of potential companies to work with and reach out to them to see if they would be willing to provide you with a list of their cash buyers.
7. Real Estate Agents
Real estate agents — investor-friendly agents, that is — are another great source of potential cash buyers.
Agents work with all types of investors, including cash buyers, and they often have a good idea of who is looking to buy properties in the area.
Some real estate agents will even have a list of their own cash buyers that they work with on a regular basis.
If you can find a real estate agent who is willing to work with you, they can be a great source of potential buyers for your next wholesale deal.
Not sure where to look?
Check out the video below…
8. Real Estate Meet-Ups
Another great way to find potential cash buyers — and a general benefit to your career as an investor — is by attending real estate meetups.
At these meetups, you'll find all types of investors, including cash buyers. You can also get a feel for what type of properties these investors are looking for, which will help you target your marketing efforts.
If you're not sure where to find real estate meetups in your area, a quick Google search should do the trick.
And if there aren't any real estate meetups happening near you, you can always start your own.
9. Facebook Groups
There are tons of great real estate investor Facebook groups that you can join.
And just like in-person meetups will give the opportunity to network with other investors, Facebook groups will give you the opportunity to connect with potential cash buyers online.
You can use these groups to post information about your wholesale deals, and you may even be able to find a buyer or two who is interested in working with you.
Just remember, when posting in these groups, make sure that you are following the rules and guidelines set forth by the group admins.
If you don't, you could get kicked out of the group, which would obviously put a damper on your chances of finding a buyer for your next wholesale deal.
Just search for "real estate investors [market]" in Facebook's search feature, and you should be able to find a few that are active in your area.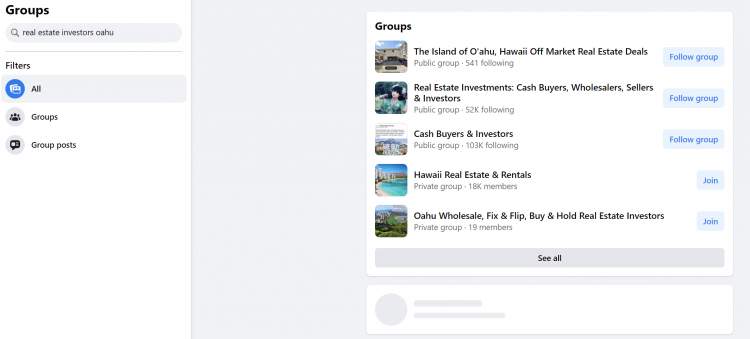 10. Craigslist
You may not think of Craigslist as a place to find potential cash buyers, but you'd be surprised.
There are actually a lot of real estate investors who use Craigslist to find properties to buy.
It makes sense.
If you're an investor with lots of cash and you want to find deals, Craigslist is a great place to find distressed properties that aren't on the MLS; possible investments.
If you post your wholesale deal on Craigslist, there's a good chance that you'll be able to find a cash buyer who's interested (assuming it's a good deal).
Just make sure that you include all of the pertinent information about the property in your post, and be sure to weed out any tire-kickers.
11. Google
This may seem like a no-brainer, but it's easy to forget the power of a simple Google search when you're looking for something specific.
If you're having trouble finding potential cash buyers in your area, try searching Google for "sell my house fast for cash in [target market]."
A lot of the results you'll get will be from wholesalers like yourself… but some of those results will point toward investors who do buy-and-hold investing or fix-and-flipping. You might even want to click through to pages 2, 3, or even 4 to find the results that aren't ranking so well.
Call some of those companies and see if they're interested in receiving information on the deals you have available.
12. BiggerPockets
If you're not already a member, sign up for a free account on BiggerPockets.
This is a great online resource for real estate investors of all experience levels, and it's full of potential cash buyers.
Network, network, network.
Ask questions, answer questions, and participate in discussions in the forums.
Get your name out there, and make sure that potential cash buyers know that you're looking to wholesale deals (just include it on your profile).
The more people you talk to, the better your chances are of finding a buyer for your next wholesale deal.
13. List Swap
Know other wholesalers in your area who are quite successful?
Offer to swap buyer's lists with them — you give them your cash buyers and they'll give you yours.
This is a great way to get in front of a new group of potential cash buyers, and it doesn't cost you a thing.
Of course, you'll want to make sure that the other wholesaler is reputable and that they actually have a list of high-quality cash buyers before you agree to swap lists with them.
Final Thoughts
The key to wholesaling real estate is finding motivated sellers and flipping those deals to cash buyers for an assignment fee.
If you can learn how to do that, you'll be well on your way to closing your first (or next) wholesale deal.
There are many different ways to find potential cash buyers for your wholesale deals — as listed above — so get out there and start networking!
And don't forget to grab your free gift below… it'll be a game changer.