Want more real estate listings?
Need to step up your real estate agent marketing plan?
Then you've come to the right place!
In this guide, we're going to show you 9 proven ways to get more real estate listings, even if you're in a low-inventory market.
These aren't theoretical.
They're tested and proven by tens of thousands of real estate agents around the nation.
If you put them to work, then they will work.
But before we share those tactics, a quick word about managing expectations.
The Seasonality of Real Estate Listings — Managing Expectations
Being a real estate agent is very much like owning a business.
And as with most industries, there's a predictable ebb-and-flow to the supply and demand throughout a given year.
This is very true when it comes to real estate.
From 1999 to 2015, this is what the home sales curve looks like throughout the typical year (according to research by HW Media).
Seller activity spikes in May and lasts until about August with a steep decline in September. It holds steady and then declines to its lowest point from January to February, starting to steadily rise again in March.
Why is that important?
Because, to some degree — no matter how successful you are — you're going to feel that trend in your own personal business, with the number of listings you're able to acquire at a given time.
There are always listings, of course, and many people make a wonderful living as a realtor (you can, too)… but it's important to understand that this is a seasonal business.
What you're experiencing now, whether highs or lows, likely won't last.
As once real estate agent writes on Quora,
"Real estate can also be very cyclical, so the bulk of your business each year may come during a 5–6 month period or less, followed by a period of lowered activity."
Having said that, this information shouldn't have any practical impact on how often you're marketing your business and trying to nab listings.
You should always be doing the things we're about to show you — or at least, you should choose the ones that are the best fit for you and do those things consistently.
And so, without further ado, here are the best ways we know of to get more listings as a real estate agent.
1. Hand Written Direct Mail
We're starting with our best piece of advice.
Direct mail is one of the powerful tools at your disposal for building brand awareness in your market, getting the phone ringing, and snagging listings.
Hand-written direct mail takes that to a whole new level.
How?
The biggest challenge with direct mail is getting people to open and read the letter you sent before they throw it in the trash.
It's no secret that people's mailboxes are full to the brim with credit card offers, spammy postcards, and other things they're not interested in.
Most of that gets tossed without even getting opened.
But handwritten mailers like the ones in the picture below?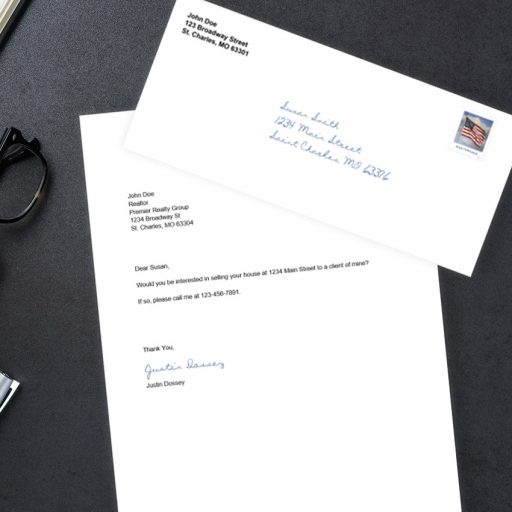 That's what we produce for real estate agents here at Ballpoint Marketing — written by robots with real pen and ink that smudges and indents the paper.
The response rate is wayyy higher than what you get with printed postcards or brochures.
For obvious reasons.
It's not every day that someone receives a hand-written letter in the mail. It catches people's attention. It builds trust. And it gets results.
Try it out for yourself to see the difference.
2. Cold Call FSBO Listings
This is an oldie-but-goodie.
There are two types of people who sell their homes without the help of a real estate agent: those who are trying to save money on commissions and those who had a bad experience with an agent in the past and have sworn them off forever.
Why not cold call those people — those with FSBO listings — and tell them that you can help them.
Maybe even offer to list their house for more than they thought they could get, or offer to reduce your commission, or tell them that you could help them sell faster.
The longer their house has been on the market, the more motivated they're probably going to be to sell. And the more willing they'll be to consider working with a real estate agent.
But…
Cold calling isn't very fun.
What do you say? How do you say it?
Well… here's a video to inspire you. It's of a new real estate agent doing her first cold call to an FSBO seller. She's nervous but she actually gets the listing!
This illustrates an important point… 80% of the results come from just doing it… even if you don't do it perfectly.
Check it out…
3. Contact Existing Listings
Another great way to get listings is to contact people who have already tried to sell their homes but, for one reason or another, it didn't work out.
Maybe their listing expired. Or maybe they pulled it off the market.
Whatever the reason, these are people who are not only motivated to sell their property — but who have had difficulty doing so.
That's ripe with opportunity.
Reach out to these people and let them know that you can help them get their home sold.
You could also reach out to people who with probate listings or people who have NODs (Notice of Defaults) attached to their property.
Again, these people are going to be motivated to sell.
Here's some great live cold calling to check out to give you inspiration for what to say and how to say it when you're talking to these people.
4. Trust in Referrals
One of the top ways that real estate agents get listings is through referrals. Past clients have a wonderful experience and so, when a friend or family is selling, they refer them to their real estate agent.
Of course, this method is only as good as the experience that you provide.
You need to go above and beyond for your clients to give you a referral. You need to build a relationship with them so that they trust you and feel comfortable recommending you to their friends and family.
Additionally, build your professional network.
Don't just forge relationships with your clients, forge them with divorce attorneys, loan officers, mortgage brokers, real estate attorneys, and even other real estate agents.
The real estate world is smaller than it seems — and it's full of people cross-promoting each other's services.
It'd be silly for you not to make the most of that.
5. Work With Real Estate Investors
This is probably the last thing you think of when you think of getting listings.
But the fact is, many (not all) fix-and-flip real estate investors would be happy to work with a real estate agent to sell their house faster on the MLS.
It's often easier, faster, and only a little bit more expensive for them.
Build relationships with fix-and-flip real estate investors in your area. Let them know that you're ready and willing to help them list their properties on the MLS.
You might be surprised.
Don't think these investors exist?
Here's a video where Ryan Dossey shows investors how to find real estate agents who are willing to represent them — it's got a few thousand views and many positive comments.
In other words, these investors definitely exist.
And you can open yourself up to opportunities by finding and working with them.
7. Get a Google Business Profile
If you don't have a Google Business Profile, get one.
Like, right now.
I'll wait.
Okay, now that you have one… use it!
Google is the biggest search engine in the world for a reason. If people are looking for something — anything — chances are they're searching Google for it.
Such as, for your purposes, "real estate agent in my area" or similar search terms. The term "real estate agent near me", for example, gets 14,000 searches every month!
So there are a lot of potential leads and listings you could snag by creating and optimizing your Google Business Profile.
Here's what this actually looks like in Google…
How great would it be to show up there?
Create your profile, reach out to your past clients and ask them to give you a review, and you'll slowly but surely increase your authority in the eyes of Google searchers.
7. Stay Active on Social Media
This is a big one.
Real estate agents who are active on Facebook or Instagram or Tik Tok reliably get more listings than those who aren't.
Why?
Because social media marketing is a numbers game.
The more people you reach, the more leads you get.
And, as we all know, the more leads you get, the more listings you ultimately snag.
Posting quality content on a regular basis is essential — but so is building your following and boosting your posts to reach a wider audience.
The Farr Group, for example, is a married real estate agent couple that operates in Spokane. Their Instagram has 8,800 followers and they get all of their business through staying active on social media.
I know because I asked.
If you're wondering what to post or where to get started, I highly recommend studying their Instagram account.
They do a great job of engaging with their followers, attracting new clients, and promoting their business.
8. Rank Your Website On The First Page of Google
This is a long-term strategy that will pay dividends for years to come.
But, it's also easier than you think.
You don't need to be an SEO expert or spend hours on keyword research every day. You can start small and work your way up.
Even just ranking your website for your name and your city (such as "John Smith Los Angeles") can get you a few leads and listings each year.
But if you want to get more real estate listings, you'll need to do more than that.
You'll need to rank your website for popular keywords like "real estate agent near me" and "best real estate agents in (your city)".
The good news is, this is easier than it sounds. You just need to follow some simple SEO techniques.
Here are the basics…
Use relevant keywords in your website's title, headings, and throughout the content.
Optimize your website's images with keyword-rich titles and descriptions.
Submit your site to Google My Business and other local directories.
Encourage reviews from past clients on popular platforms like Google and Yelp.
9. Build Your Email List
Most real estate agents know they should be building an email list.
But few agents actually do it.
And even fewer do it well.
If you're not familiar, your email list is a group of people who have given you permission to contact them directly via email.
These are generally people who are interested in what you have to say or who might be interested in your services.
The people on your email list are, essentially, a group of pre-qualified leads.
And the great thing about email is that it's a very personal form of communication. You can reach out to someone directly and start a conversation without having to rely on a third-party platform.
I get these emails regularly from my past realtor, Tony Nunes, for example…
But…
How do you do this?
The process is actually pretty simple. All you need is an email marketing service (I recommend MailChimp) and a lead capture system (like an opt-in form on your website).
Once you have these things set up, all you need to do is start collecting email addresses.
The best way to do this is to offer something of value in exchange for an email address. This is called a lead magnet.
A lead magnet could be a PDF guide, an eBook, a webinar, or even just a simple checklist.
For instance…
The key is to make sure it's something your target audience would find valuable.
Once you have your lead magnet set up, all you need to do is promote it on your website and social media platforms.
When someone opts in to receive your lead magnet, they'll be added to your email list.
And then you can start building a relationship with them by sending them regular emails.
Over time, you can turn these leads into clients and, ultimately, get more real estate listings.
Final Thoughts
Getting listings isn't easy. It takes time, energy, and effort to build relationships with potential clients and turn them into actual clients.
But if you're willing to put in the work, it can be immensely rewarding — both professionally and financially.
The most important thing, though, is to be consistent with your efforts. Trying one or two of these methods once isn't going to get you the results you're looking for.
You need to commit to a daily and weekly routine of marketing, cold-calling, networking, and more if you want to see real results.
If you can do that — if you can stick with it — you'll rise head and shoulders above other realtors in your market.