Being a real estate agent means buying and selling homes.
Which means finding clients and getting listings.
Which means marketing.
Which (in part) means writing a really good bio for yourself to display your personality and expertise when people find you online.
How do you do that?
Here are 12 of the best real estate agent bios we've ever seen — from typical agent listing bios and full "About" pages to Instagram bios and email signatures.
If you're not sure where to get started when writing your own bio, then check out the 11 examples below for inspiration!
Our Favorite Real Estate Agent Listing Bios
What you probably came here for is examples of typical agent listing bios. These bios live on real estate agency websites or other places where your services are listed and they're typically a few paragraphs (although we recommend not making them too wordy!).
Below are three examples that we think stand out from the crowd for different reasons.
1. Katie Day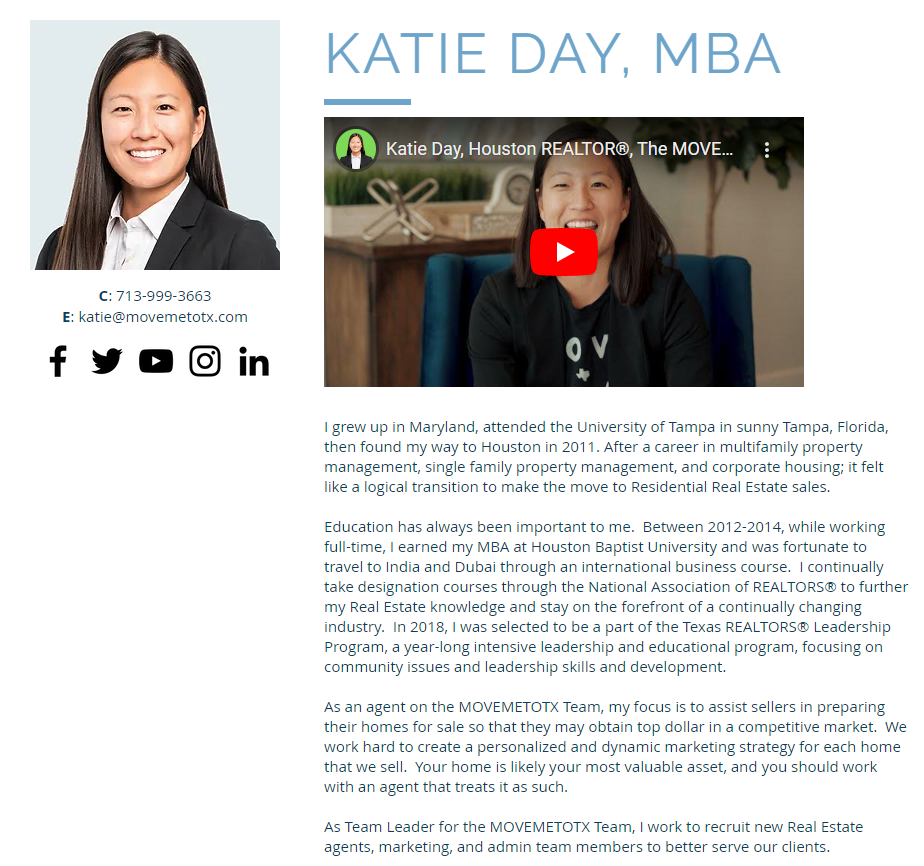 What we love about Katie Day's bio is that she has a video right at the top. This is super unique and something we can't find any other real estate agents doing… and yet it's such a simple way to make your bio stand out from other realtor bios.
You can record a video (watch hers here for inspiration!) and have someone on Fiverr edit it for you to make it a little  more professional — add an intro, an outro, and make some appropriate cuts to get rid of awkward transitions.
The rest of her bio is also pretty good, but it's bland compared to the video at the top.
2. Krista Farr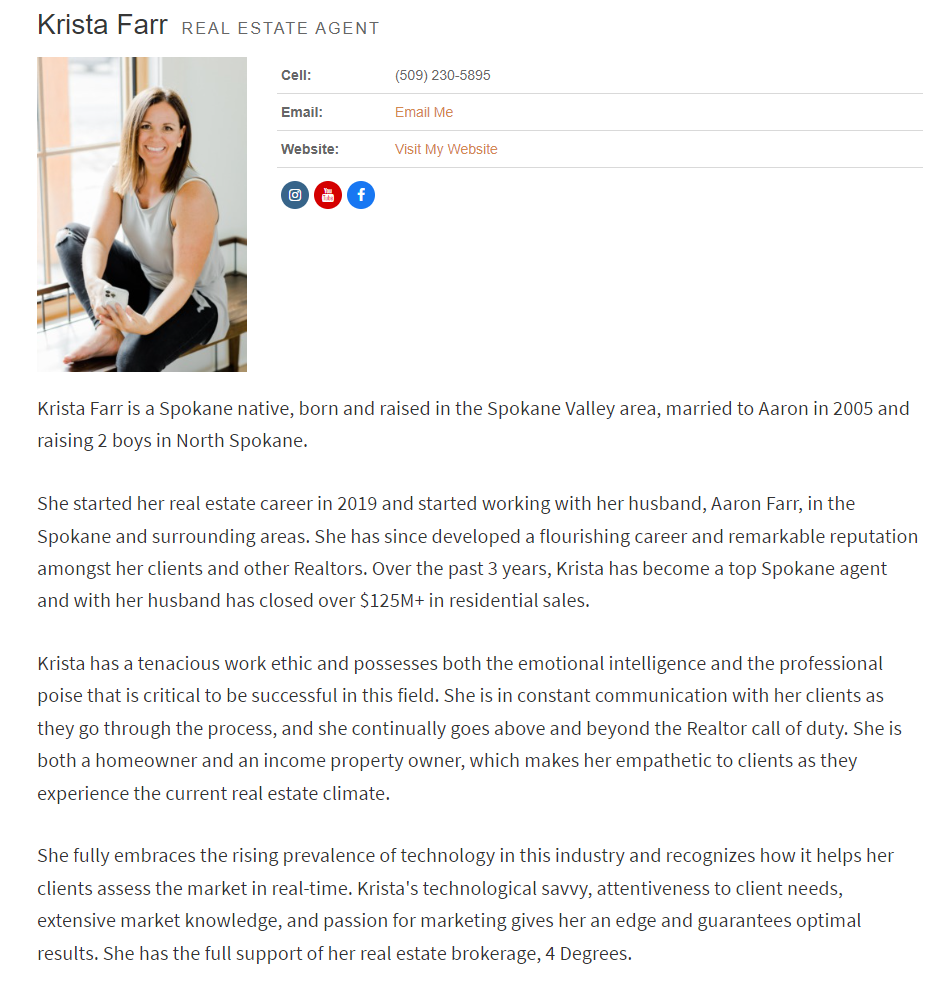 Krista Farr is a successful real estate agent in Spokane, Washington. And she gets a lot of her clients through Instagram — in fact, we highly recommend checking out her Instagram account to see how she does it.
There are several things we love about her bio.
First of all, look at the picture. It's not a picture of her perfectly pampered with arms crossed, looking deadly serious (as so many real estate agents tend to do)… it's personable and makes her seem approachable. For her target market which seems to be middle-class people buying and selling homes, that makes a lot of sense.
Her bio has just as much personality as her photo. It starts by discussing where she's from and who her family is. Then it shares her real estate journey and experience. And finally, it ends by emphasizing that she's ready and willing to do everything she can to help her clients.
3. Ryan Fitzgerald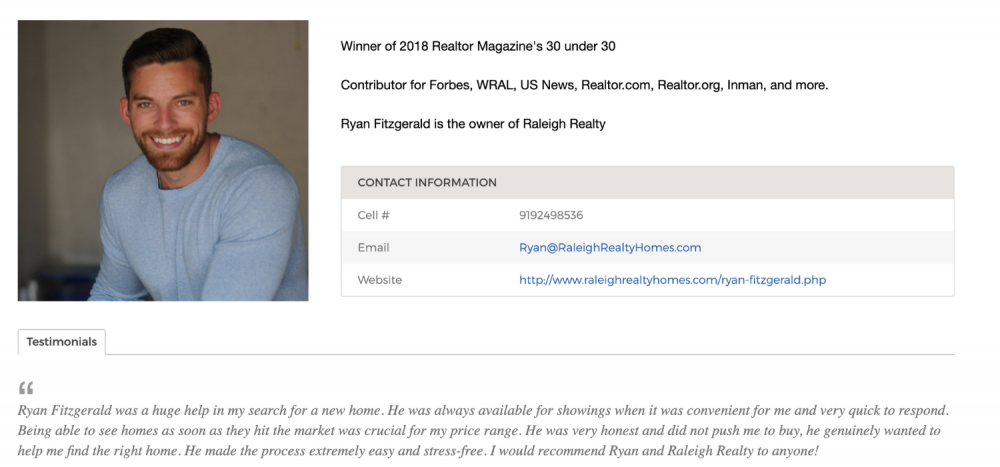 There are a lot of "luxury" style real estate agent bios out there.
Many real estate agents, naturally, want to sell bigger and better homes and work with bigger and better clients. They think the way to do that is to create a bio that seems uber professional and highly bo-toxed.
The problem is, only pretentious people — and not all wealthy people are pretentious, mind you — want to work with pretentious real estate agents. There's a market for that… but it's extremely exclusive by nature.
That is, if you market yourself as the pretentious real estate agent, people who aren't pretentious (even though they might be wealthy) won't want to work with you.
To a large degree, it's a misguided marketing tactic.
That's what we love about Ryan Fitzgeral's bio.
It's simple, unassuming, and yet it lists some pretty impressive achievements — such as being a contributor to Forbes or being a winner of the 2018 Realtor Magazine's 30 under 30. The testimonial at the bottom is the icing on the cake.
If you've got some big achievements under your belt, don't overdo the marketing… let those achievements speak for themselves with a simple bio like this one.
Our Favorite Real Estate Email Signature Bios
The email signature is another important part of a real estate agent's bio.
You never know where your next client is going to come from, and every great agent knows that it's important to put yourself out there and put your best foot forward at every opportunity.
Having a good email signature is one example of that.
You email a lot of people. And spending a little bit of time to create a compelling email signature might just help turn some of those people into future clients. You can have a email signature designed on Fiverr for pretty cheap (just do a search for "design for email signature" and you'll get a ton of options).
4. Marissa Higgins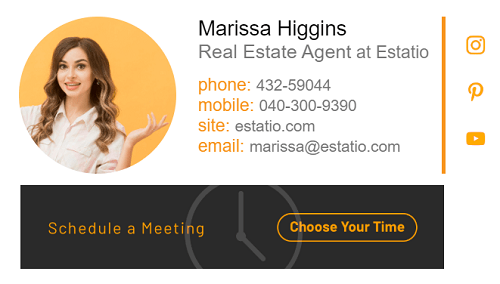 This email signature is awesome.
The photo is eye-catching and naturally draws your eye toward her info on the right side, which is simple and provides her contact information. The colors also look great. But the best part is the simple CTA at the bottom of the email — "Schedule a Meeting". We imagine that is just a link to her Calendly where people can set up a time to chat with her according to their own schedule.
And why not?
This seems like an absolute no-brainer.
5. Shawn Fisher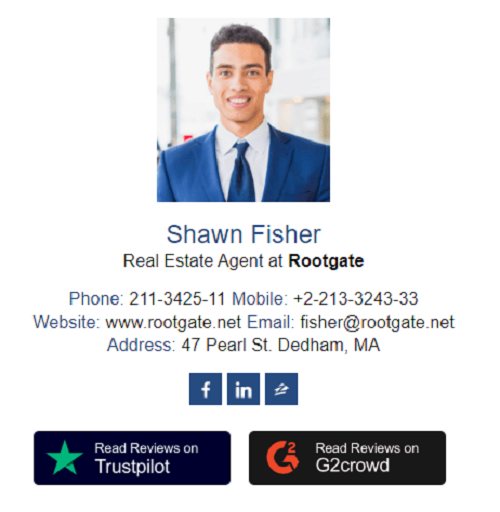 Shawn Fisher's email signature is great but takes a slightly different route than Higgins'. It also has a picture and contact information (although the colors could use to be a bit more eye-catching). But instead of a CTA to schedule a call, it has links to Fisher's Trustpilot and G2crowd review pages. He's using social proof to build rapport and giving people who might be interested in his services a chance to learn a little more before they give him a call.
6. Robert Smith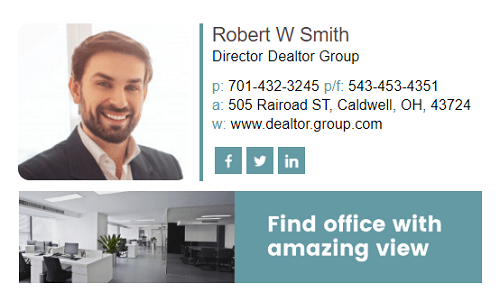 Again, we have a nice picture and contact information. But what is intersting to us about this email signature is the CTA: "Find office with amazing view". This is a clickable link that takes you to Smith's office property listings.
This is another way to use your email signature. You need to find buyers for your listings… and who knows when the person you're emailing might happen to be looking to buy. Why not include a CTA to your listings right inside of your email signature? Heck… you could probably include both a CTA to schedule a call and a CTA to look at your listings inside of your email signature.
Our Favorite Full-Page Real Estate Agent Bios
Where the typical bio or an email signature isn't enough, sometimes you'll want to dedicate a full page on your website to talk about your expertise and how you got started.
Well, buckle up.
'cause we've got some awesome examples of full-page real estate agent bios below. These stand out from most full-page bios you've seen and we highly recommend studying each of these if you plan to create your own.
7. Amanda Cuebas

This page is awesome in so many ways.
And because of the way it flows, it'd be super easy to mimic something similar on your own website.
It starts with a picture of Amanda Cuebas — an awesome, unpretentious picture, by the way — and the typical contact information.
Then there's a few paragraphs of information about her. This part is very similar to the normal bios we were looking at earlier. It talks about her experience, personality, and determination to help clients.
The next part is our favorite: a Q&A with Amanda.
There are answers to questions such as…
Have you always lived in Central Florida?
What do you want your future clients to know about you?
What has surprised you about real estate after becoming an agent?
…and lots more.
This is cool because it gives the reader an opportunity to learn more about Amanda on a personal level. Real estate is all about relationships… and this Q&A section helps build that online.
The page ends with testimonials for social proof and a CTA to call Amanda if you're interested in working with her.
8. Tyler Stewart

We've looked at a lof of examples of great real estate agent bios so far.
But to be honest, this one might be my favorite.
The attitude that Tyler Stewart displays and the way she uses her personal story to emphasize her resilience, grit, and work ethic is awesome.
The picture at the top of the page shows that she's someone who likes to work hard with clients and get stuff done, but that she's also approachable and friendly.
The best part, though, is the copy that comes after the first picture.
"What if your Realtor was more than just another order taker, simply checking off boxes?"
"What if your Realtor had a background in project management, renovation, flipping, and investment – on top of a detailed knowledge of the housing market?"
"What if your agent knew how to win?"
She answers each of those questions and then she says…
"In my first nine years as a realtor, I sold over $500 million in real estate in almost every part of San Francisco and Marin.
WHAT IF I WAS YOUR AGENT?"
Then there's a picture of her running with the headline, "Pro Athlete to Agent" and the following copy underneath…
"WHEN IT COMES DOWN TO IT MY LIFE IS ABOUT PASSION
It's about never stopping, being allergic to living an average life. I have always been hungry for more.
AS A FORMER PROFESSIONAL IRONMAN TRIATHLETE, HORSE JUMPER, AND NOW REAL ESTATE AGENT AND INVESTOR, I KNOW WHAT IT TAKES TO SHAKE THE SHACKLES OF MEDIOCRITY TO LIVE THE LIFE YOU TRULY DESIRE.
It all comes down to being prepared, hard work, and the ability to look at things just a little bit differently,
whether that's Olympic Trials, World Ironman Competitions, horse jumpers, or the real estate market.
I bought my first home at 24 and continue growing my portfolio with multi-unit investment properties, single-family rental homes and rental vacation homes. Over the years I have learned not only what I want in a home, but what others want as well. The home buying process can be overwhelming. I'll be by your side every step of the way – whether you're dipping into the real estate market for the first time or hoping to buy the home of your dreams."
The video on her page has just as much attitude as the page itself.
Go to her homepage here to see the intensity and attitude for yourself.
Our Favorite Real Estate Agent Instagram Bios
If there's one social media platform where real estate agents thrive, it's Instagram.
A real estate agent who I know personally, Krista Farr, gets virtually all of her listings and clients through staying active on Instagram. But how do you create an Instagram bio that turns your follower's interest into a website visit or a phone call?
Here are some awesome examples!
9. Nicole Mickle
Nicole Mickle is a real estate agent in Orlando, Florida and she has nearly 13,000 followers on Instagram. Her profile is just as impressive as her number of followers and is a great example of how to create an effective Instagram bio.
"Orlando Native" indicates that she was born and raised in Orlando (something many people want from a real estate agent), she mentions that she has 20+ years experience in real estate, she's a mom, a CEO, and, in particular, a relocation specialist.
Then she has a link to her website.
Didn't miss a beat, did she?
10. Brian Hopper

We like Brian Hopper's Instagram account because it leans a little more toward the professional side than some of the other examples we've looked at in this article… without feeling over the topi. 
The picture is professional but friendly and approachable. And his list of accomplishments is impressive — including being the #1 broker for his company as well as being in real estate since 2004.
This is how you create a bio for yourself to market to high-ticket clients.
11. Taya DiCarlo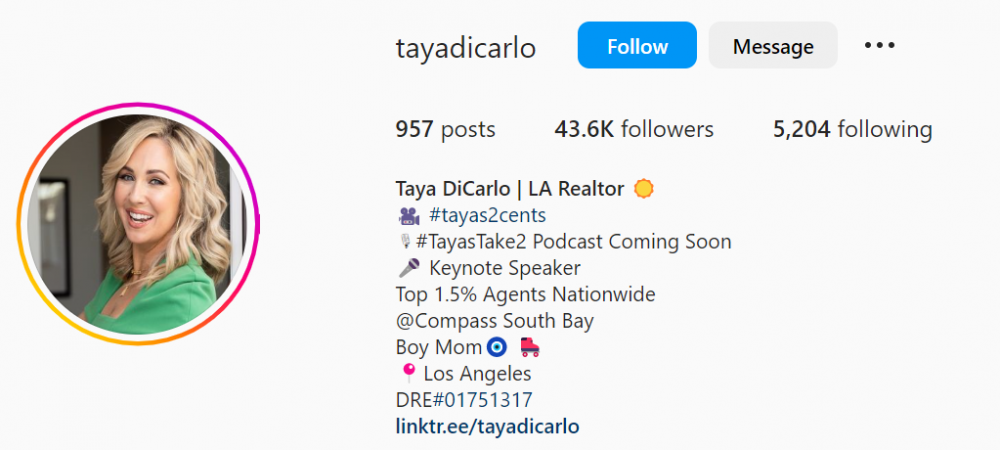 You might be noticing a trend of these real estate agent Instagram bios…
They're all a list intermixed with real estate expertise and personal information… and there's always a link at the bottom.
This format is simple and effective.
Taya DiCarlo is no exception.
Her Instagram bio points to her professional accomplishments and her personal ones ("Boy Mom"). Then it ends with a simple link where people can go to learn more.
Final Thoughts
Marketing is an important part of any real estate agent's career.
To do that, you've got to know how to write a compelling bio in different places and on different platforms.
What better way to learn then by looking at awesome examples?
The bios above will help you craft your own. Use them to get inspiration, create templates, and write a bio that turns browsers into leads.
Good luck!