When it comes to cheap and free marketing for real estate investors, bandit signs are the crème de la crème.
It's one of the first things many new investors try.
But is it worth it?
Here's everything you need to know about bandit signs.
What Are Bandit Signs?
Bandit signs are large signs that real estate investors stake in the ground to hopefully find deals. They often read things like "We Buy Houses" and "Cash for Your Home".
They're popular amongst real estate investors because they're one of the cheapest, fastest, and easiest ways to get the phone ringing with people interested in selling their home fast for a fair cash price.
But don't get too excited.
They're called "bandit" signs because they're illegal in virtually every city in the U.S.
If you want to check the regulations in your own market, just head to your local city hall and ask about the legality of putting signs in the ground.
Or just do a quick Google search for "are bandit signs legal in [city, state]?"
You'll probably get an answer in the negative.
The next questions you probably have are…
Will you get caught?
How much is the fine if you do get caught?
Since you're literally putting out bandit signs in high-traffic areas of the city with your phone number and business name on them, your chances of getting caught are very high — chances of police actually enforcing and prosecuting bandit sign laws will vary from market to market.
But is it worth the risk?
The fine is typically between $100 to $2,000 depending on local laws.
Here's just one story (amongst hundreds) on BiggerPockets from an investor who tried bandit signs and very much regretted it…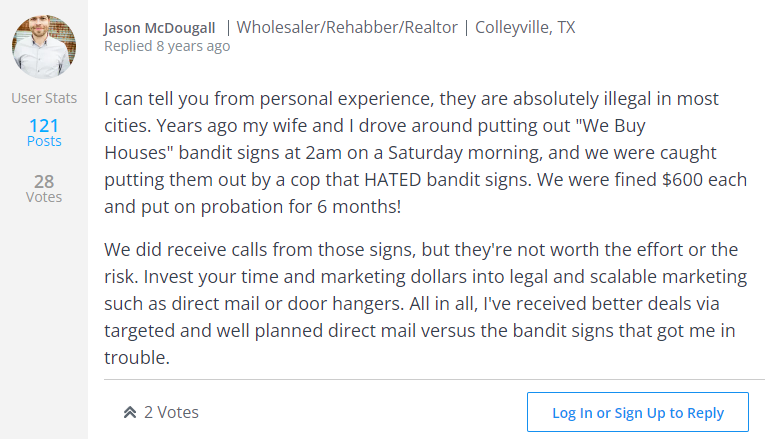 Legality aside, bandit signs create a questionable image for your brand when people see them in their neighborhood advertising your business.
Ultimately, we don't think the risk is worth the reward.
There are a lot of other far more effective and safe ways to market your real estate investing business and find deals without getting calls from local law enforcement.
Heck — there are even some ways you can use bandit signs legally and effectively.
For example…
How to Use Bandit Signs Legally & Effectively
Here are some ways you can use bandit signs legally so that they're just signs… not "bandit" signs…
1. Leverage Your Rental Properties
Own rental properties in the area where you operate?
Why not put signs in the yard advertising "cash offers" to passersby? It's completely legal when the sign is on private property.
This is particularly effective if you own a lot of rental properties and even moreso if those properties happen to be along high-traffic streets.
Alternatively, if you know a real estate investor who owns a lot of rental properties, you could always ask them for permission to place signs in the yards of their properties.
They might be willing to let you do so if you offer to give them first-grabs on the deals you generate with their bandit signs.
2. Ask Friends & Family
You probably have friends and family who live in the area where you invest.
Why not ask them if they'd be willing to put up your sign on their lawns?
Of course, not everyone will probably agree. But it's worth a shot. When you're starting a new business, you've got to work with what you've got.
And if your friends and family are willing to help, maybe you even offer to pay them a little bit every month for their help.
3. Get Permission From Local Business Owners
Know some business owners in your market?
Sometimes — if you present yourself as another local business trying to gain traction and, especially, if you offer to return the favor somehow — local businesses will let you place your signs on their lawns or in the window of their store.
This is a great way to get the word out about your business without breaking any laws.
But now let's talk about the single best way to find deals on a budget…
The BEST Way to Find Real Estate Deals on a Budget…
Most new real estate investors resort to bandit signs because they're cheap and effective… and well, we real estate investors are scrappy. Our goal is to build wealth and freedom for ourselves and our families… and we've a got a "do whatever it takes" mentality.
That's a good mindset to have!
Still, it sucks getting fined.
So keep the mindset, but let me show you a better way to find deals on a budget. It'll only cost you a few hundred dollars and some sweat equity. And if you follow through with it, you're definitely going to find some great deals. This exact process has worked for thousands of investors around the nation.
Step 1. Sign Up For Deal Machine
Driving for dollars is a term that real estate investors use to refer to the process of driving around their target investment neighborhoods looking for distressed properties that owners might be willing to sell for a discounted cash price.
It's time-consuming.
But it's the best option you've got if you're starting as a new wholesaler on a budget.
And Deal Machine is the best app we know of for tracking your routes. But rest assured, we're not going to make you just blindly drive around neighborhoods writing down addresses… we're going to be more targeted than that.
Click here to get a free trial.
Step 2. Pull Your Niche Lists
Again, we don't want to make you drive around neighborhoods aimlessly hoping to find deals.
First of all, ugly houses aren't the only ones that wholesale — many people are perfectly happy to live in squalor… while many people with equity want to sell fast for the convenience of selling fast or because of stuff going on in their life (and it has nothing to do with the condition of their home).
And second of all, it's just way more effective to drive by properties where you know the owners are in some sort of distress.
How do you compile your niche list of high-equity, distressed homeowners?
Get a Propstream account here.
Then check out the below video for a walkthrough from Ryan Dossey of how to use Propstream to find motivated sellers.
And here's the second video where you'll learn how to pull data for people with expired listings who have a lot of equity.
Step 3. Map Your Route & Leave Door Hangers
Next, you can use MapQuest's Route Planner to find the most efficient driving route between the addresses you found.
Here's how to do that…
How do you market to these people, though, and let them know what you're doing?
One option is simply to door knock, tell them about yourself, and give them a business card. This is free and easy.
A better option, if you've got the money for it, is to use our hand-written door hangers.
They cost $0.60 a piece and they're super effective for getting the phone ringing. This is better than door knocking because a lot of people won't answer the door when you knock… but they'll read these hand-written door hangers.
This is by far the easiest and most ethical way to find your first deal in real estate.
But no… it's not free.
You can expect to spend between $200 and $500 depending on if you decide to use the door hangers or not… and you'll definitely have to put in some sweat equity.
But who cares?
If doing so could completely change your life, then it's absolutely worth it.
And of course, it's also nice to not have to worry about getting a call from the police about bandit signs.
5 Additional Bandit Sign Alternatives
Looking for more ideas?
Here are some more alternatives to bandit signs that you might consider…
1. Advertise in The Local Radio or Newspaper
Another option is to advertise in the local newspaper or radio.
You can get a small ad placed in either medium and the price can be pretty reasonable. Not to mention the primary listeners and readers of the newspaper and radio are older people who very well might happen to have a lot of equity in their properties and be looking to downsize.
(i.e. possibly your target market)
Plus, you won't have to worry about any legal repercussions here since it's all done within the confines of the law.
2. Buy Ad Space On Billboards
Billboards are basically just legal bandit signs.
And depending the sign you choose to advertise on, they can be surprisingly affordable, sometimes as low as $100 per week for a high-traffic area.
Since they're not technically considered "bandit signs", you don't have to worry about any legal repercussions or fines, and it's a great way to get the word out about your business without having to put up your own illegal signs.
3. Use Craigslist
Craiglist is like the land of digital bandit signs.
And it can be a great place to advertise your business without having to put out any bandit signs.
You can post ads within the real estate section to target people who are both buying and selling homes.
It's completely free, just make sure to follow the rules of the site when posting and avoid posting too frequently or your ads may get flagged as spam.
Here are a few additional tips for posting on Craigslist…
Keep ads short, simple and to-the-point.
Include a call-to-action that encourages readers to contact you.
Use keywords related to the type of property you're looking for in the title and description.
Make sure to include your contact info at the bottom to make it easy for people to get in touch with you.
Try using different variations of your ad every few weeks or so to keep things fresh.
4. Try Cold Calling
While it's uncomfortable, cold calling can be a very effective to generate leads and find deals.
If you want to try it, then you'd follow the same process listed in this article (with pulling your niche lists via Propstream) but instead of putting door hangers on all of those properties, you'd just skip trace them to get their phone numbers and call the owner to see if they're intersted in selling.
But what do you say?
We have cold calling scripts and examples over here for you — if you want to run with this marketing strategy, go check out that guide.
5. Hand-Written Direct Mail
At Ballpoint Marketing, our bread and butter are these hand-written direct mailers.
They build rapport unlike any other mailers on the market and, because of that, they get record-high response rates for our customers.
You can check out our full catalog over here.
And here's some info from our FAQ page about how we ship letters vs. postcards and why…
Mailers: Our pieces are high quality and personal, and a local postmark ensures that your prospects feel like someone in their community is interested in them and not someone mailing them from across the world. So all of our products are shipped to you to drop locally.
Post Cards: PostCards are processed differently and are shipped directly to your uploaded list.
Final Thoughts on Bandit Signs For Real Estate Investors
While bandit signs are a cheap and effective way for real estate investors to generate leads and find deals, they're also risky.
They don't only run the risk of getting you some hefty fines, but they can also harm your brand image.
Instead, we think it's a far better use of your time to invest into marketing strategies that are safe, effective, and ethical — such as direct mail, door hangers, billboards, and online advertising.
These things aren't free.
But they are proven to work by thousands of investors around the nation.
They can work for you, too.