When it comes to commercial real estate, it all revolves around the relationships you build.
Many investors like to cold call to start conversations to build those relationships.
But there's other strategies you can use to get their attention — and get them to reach out to you first so you're able to grow your business without cold calling all day.
Direct mail is a great strategy for finding off-market properties and making sure you're top of mind in case a property owner decides it's time to sell.
In this guide, we're going to break down the strategy behind using direct mail to find commercial properties for your real estate investing business, best practices for sending the mail, how effective it can really be, and how to start using it to find more deals.
First, What is Commercial Real Estate?
As a general rule, you can classify "commercial" real estate as any property that's used exclusively for business or work rather than providing a single-family living space.
Property that can generate a profit for the owner, either through capital gains or through rental income is considered "commercial" property.
There are four main types of commercial real estate:
Office Space
Office space can be classified in different classes, ranging from A, B, and C.
Class A office space represents the highest tier of buildings with focus on aesthetic appeal, age of the building, quality of the infrastructure around it, and its location.
Class B office space is typically older and not priced as high as Class A properties and are typically targeted by investors as rehabilitation and renovation projects.
Class C office space is usually the oldest, with buildings being more than 20 years old, being located in areas that aren't as attractive, or buildings that are in desperate need of maintenance.
Industrial Use
Industrial real estate covers properties that are used for research, development, manufacturing, production, storage, or distribution.
Multifamily Rental
Multi-family properties are often considered resident but when they generate capital gains or income for the owner, they're actually commercial real estate.
Multifamily properties, or multi-dwelling units / MDUs, are buildings that contain multiple separate housing units in a single building for residential tenants to live in.
Examples of these are duplexes, triplexes, quads, and apartment buildings.
Retail
Retail real estate is properties that market and sell consumer services and goods. They can range from single tenant buildings, to small shopping centers in a neighborhood, larger grocery centers like Walmart, and even power centers that contain large anchor stores, like a mall.
Other examples of retail real estate are properties like hotels and vacation resorts, healthcare facilities, shopping malls and strip malls, or restaurants.
What is Direct Mail in Commercial Real Estate

Direct mail is an amazing strategy for finding off-market commercial property deals.
To find the deals, you'll locate properties that you want to potentially invest in, then send a letter directly to the property owner to find out whether or not they're willing to sell to you.
These letters can be anything from postcards, to handwritten notes, or letters that you personally sign and hand-address to the property owner.
One of the most effective strategies you can use in your direct mail campaigns is to write the letters yourself, sign your name, and then write the address onto the envelope after.
This personalized approach helps increase your conversion rates compared to letters that are printed out with envelopes that contain printed addresses.
But, unfortunately, writing out dozens (or even hundreds) of letters by hand doesn't scale very well. So if you're looking to grow, check out some of our templates and see how we're able to mimic handwritten, personalized direct mail to get higher conversion rates at scale.
To give you some other ideas for your direct mail campaigns, here are a few examples:
You can see from this example that the envelope is designed to stand out and keep it from looking like every other piece of mail the owner will get.
If you zoom in, you can see how we're able to mimic the style and ink you would use if you were handwriting each of these letters and having them personalized for each owner.
This type of letter is great for getting your foot in the door and getting conversations started with owners of properties you may want to invest in.
Here's another great example of a handwritten, branded letter:
This letter focuses on brand recognition & awareness to make your direct mail appear more professional while still retaining that personalized approach & feel.
The postcard style helps it stand out and lets the owner quickly read the message on the back of it instead of having to open an envelope or thinking the letter is spam mail and tossing it into their "B" pile to get read later.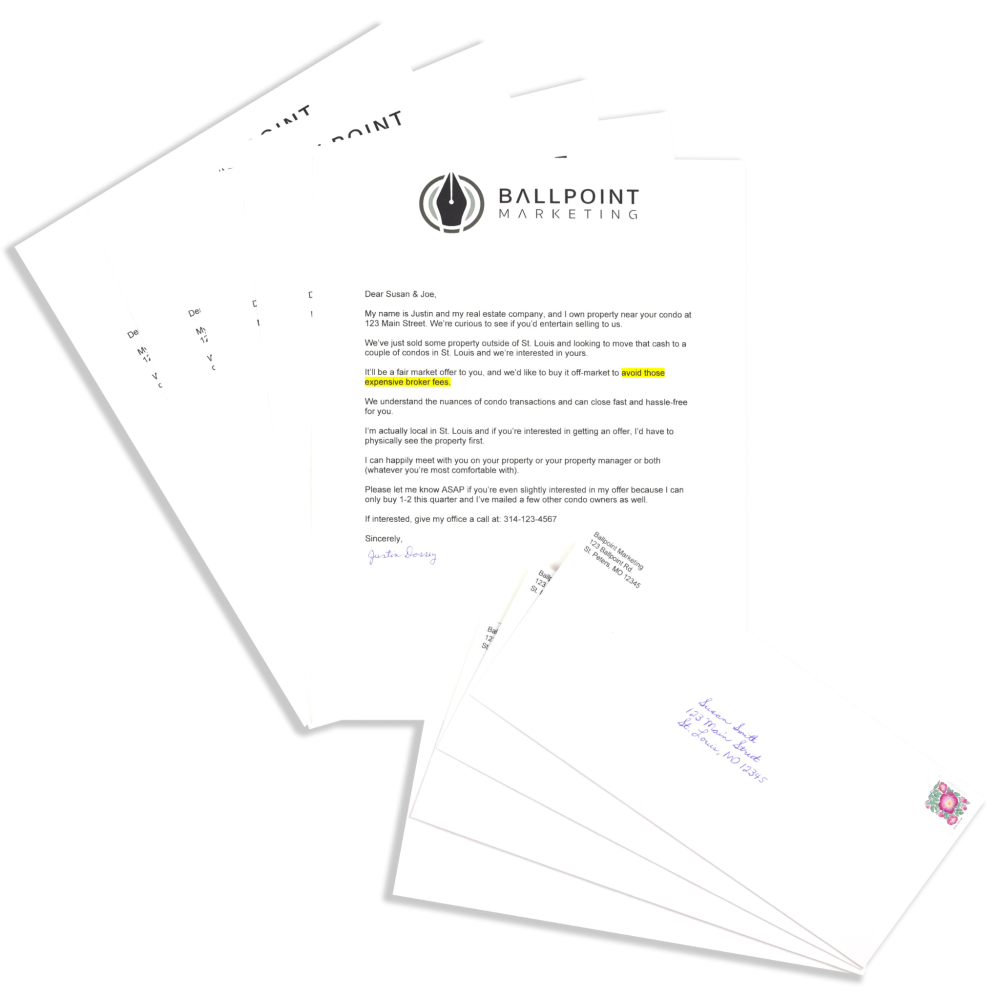 For commercial real estate, this printed letter is a great example of giving owners the type of messages they expect to see while also keeping it personalized with a hand-written address on the envelope and a handwritten signature at the end of the letter.
Compare these examples to the spam that you get in your mailbox every day and you can start to see why personalization makes them so much more effective.
And since 42.2% of direct mail recipients scan/read the mail they receive, these added personal touches help ensure that you don't get immediately disregarded as junk mail.
On top of that, personalization can help increase the response rate of your direct mail campaigns by upwards of 50% or more compared to pre-printed, mass produced mailers.
Then, when you realize that around 60% of direct mail recipients were influenced by the mail they received, you can start to see why these campaigns are so effective at generating leads, helping close sales, and keeping your business/brand at the top of the owner's mind so when they're ready to sell you are the first person they think of.
To see even more statistics & why direct mail is so effective, check out these 30 real estate direct mail stats every investor should know about.
How To Send Direct Mail For Commercial Real Estate
If you aren't already using direct mail campaigns to generate more commercial real estate leads, here's how you can get started today:
Step 1: Find Potential Commercial Real Estate
The first step is locating properties that you may be interested in investing in.
There's a couple ways you can do this. You can either go "driving for dollars" by driving through areas that you may want to invest in and writing down addresses of properties you're interested in connecting with the owner on.
If you're looking for a more efficient method, though, you can use a tool like Propstream to help find commercial real estate in your area.
With Propstream, you can pull lists of leads for all the commercial properties in the area you want to work in, research the properties in those lists, and then begin marketing to them with either direct mail or cold calling — from inside your Propstream dashboard.
Step 2: Create Your List(s) of Commercial Real Estate
Once you've chosen a strategy for finding commercial properties, the next step will be consolidating them onto lists you can use to stay organized.
You don't want to consolidate all of your data into a single list, though.
Instead, a better approach is to keep your lists separated by the type of property and the area that the property is located in so your marketing campaigns are more effective.
To give you an example, let's say you want to find retail storage properties in Jacksonville, FL and healthcare facilities in Atlanta, GA.
Many investors will pull lists for both types of properties and plug them all into the same marketing campaign without realizing they're decreasing the campaign's effectiveness.
A better approach is to focus one list and one campaign on the storage facilities in Jacksonville, FL, and then another list and campaign on the healthcare facilities in Atlanta, GA.
This helps you separate the messaging you use so you can custom-tailor it to the specific property type and the area that the property is located.
If you're using Propstream, you can organize your data like this from inside your account. If not, you'll want to keep your lists on separate spreadsheets to help stay organized.
Step 3: Set Your Budget
Once you have your lists built, the next step will be setting a budget for your campaigns.
As a general rule of thumb, you can expect to send anywhere from 500 to 1,500 pieces of mail per deal that you're able to lock down.
That translates to around $500 to $2,000 per campaign, depending on the type of mailers you're sending out.
When you're just getting started, you can send out 100 to 200 pieces of mail a week to help get the ball rolling and establish some consistency in your marketing efforts. Then, as your business grows, you can begin to ramp up how many you're mailing every month.
To help with your marketing budgeting, check out this guide that breaks down what a good direct mail campaign looks like — and how much it typically costs for the results it generates.
Step 4: Create Your Direct Mail Marketing Plans

When you understand the budget you have available for direct mail marketing, you'll want to start developing a plan for effectively using those marketing dollars — and getting the highest return possible.
Here's a great guide that breaks down some of the best approaches you can take, the types of messages you can send (with examples) and different types of lists you can pull to find sellers with higher motivation levels — who are more inclined to entertain your offers.
What Are Examples of Direct Mail Advertising?
When it comes time to start mailing, you don't have to reinvent the wheel. Direct mail marketing for real estate isn't a new strategy so there are plenty of examples of mailers that have been used successfully in the past.
To help you get started, here's a list of 19 direct mail templates that work in 2023.
Then, for a bit more inspiration, here are 10 more examples of highly-effective mailers.
In our experience, one of the most effective pieces we've mailed out (and we've mailed 10's of thousands of these) is this Commercial Acquisition Mailer.
There's a few things going on with this template, so let's break it down so you can see why it works so well for generating commercial leads.
The first is the "local feel" of the template.
You can see on the envelope that it doesn't look like most commercial mail. Instead, it appears to be addressed by hand with a normal stamp on it instead of a commercial label.
Then, as you read the message, you can see that it has urgency baked into the message to help show people why they should respond now — instead of setting it aside for later.
The template also provides proof to help establish credibility and legitimacy so the conversations generated by this piece start off on the right foot — instead of you having to build that trust and provide that proof on the first call.
Finally, the highlighted section immediately focuses the reader's attention where you want it to be so they're more inclined to read the rest of the message.
This has been one of the most effective pieces we've developed & sent out, especially when you remember that almost 76% of consumers trust direct mail when making a purchasing decision, compared to only 50% for email and other advertising methods.
Sample Commercial Real Estate Direct Mail Letter
The first goal with your direct mail should be to help your leads get familiar with your brand.
Next, you want to address them personally by name, let them know who you are, and what it is you're interested in talking to them about.
This helps make it immediately apparent that this letter is relevant to them.
Then, you'll want to go deeper into the message and why this is relevant, highlighting the big benefit for them if they continue reading.
In this instance, avoiding large broker fees if they're in the market to sell is a pretty attractive benefit that would save them a ton of money.
After they understand the benefit, you can shift focus back onto them and the pains or frustrations they might experience while trying to sell the property.
That lets you transition into showing them why your business is there and how you are able to help them through the process.
Then, reinforce that you are able to help them sell the property while making the process as easy and convenient as possible for them.
Spell out the next steps they should take in order to begin a conversation with you so you get the opportunity to serve them.
Finally, sign the letter by hand so it adds a personalized touch and makes the letter feel like it was written specifically for the person you've mailed it to — not a piece of mass-produced, commercialized mail that is easy to get ignored.
Here's what it looks like when you bring all of those elements together.
And if you want to save time producing this highly-effective template, you can order them by clicking here now.
The Best Services & Tools Commercial Real Estate Direct Mail
When you're ready to start using direct mail marketing campaigns to generate more commercial leads, there's tools that can help make your campaigns more efficient, organized, and convert at higher rates.
Ballpoint Marketing focuses solely on direct mail and optimizing campaigns they send.
After sending 100's of thousands of mailers, our templates receive between 1% to 1.5% conversion rates where most investors are happy with 0.2% conversions.
The templates we provide can be personalized based on your list data and contain "handwritten" signatures, addresses, and even letter bodies to help give your campaigns the extra touch needed to get property owner's attention — and your phone ringing.
Propstream is one of the best tools you can use for pulling lists of commercial leads, organizing your data, filtering it, and transferring it to your mailhouse (or Ballpoint Marketing) so you spend more time mailing — and less time preparing the mail.
One of the biggest problems investors face with direct mail marketing campaigns is being available to answer the phone with a lead becomes a prospect and decides to call you.
Call Porter can help solve that problem by being your 24/7 automated phone answering service so you're never missing calls or letting potential deals fall through the cracks.
When you're sending direct mail campaigns, prospects are going to take the time to research your company. If you don't have an online presence, you could be costing yourself conversions.
Carrot helps you dial in your online marketing to help make your direct mail marketing even more effective with easy-to-use websites, built-in CRMs, search engine optimization, and email marketing tools to help you build a list of both sellers and buyers (if you flip properties).
Finally, REsimpli will help take the data you've pulled from Propstream and use a strategy called "list stacking" where you combine and filter lists to help uncover even higher seller motivation levels than you would in a normal "catch all" list.
By filtering and stacking your data, you can improve the effectiveness of your direct mail and online marketing campaigns by more than 200%.
Final Thoughts
Direct mail marketing for commercial real estate is still one of the best ways to find off-market properties and deals.
With the right approach (and the right templates) you can generate more leads without having to cold call or go driving for dollars.
To get started, follow the steps that we've laid out for you in this guide and consider using our proven mailers to help your mail pieces stand out from the competition — and generate more leads for your business.