Despite its age, direct mail is still one of the most tried-and-true marketing methods for real estate agents and investors.
But it also can be pretty confusing if you're just getting started out.
How much mail should you send? When should you send? And who should you send it to?
In this guide, we're going to teach you everything you need to know about real estate direct mail marketing so you can start sending campaigns and generating leads.
Let's dive right in.
By the way, we have a free gift for you. It'll show you real-world tips (from real-world investors) for finding and doing more deals per month. Snag it below for free.
Top Real Estate Direct Mail Services & Tools
What tools do you need to send direct mail campaigns and be successful in doing so?
Let's take a look.
1. Ballpoint Marketing — For Handwritten Mail
Here's a hard truth about direct mail: you're not the only agent or investor sending mail to your lists.
It's a competitive, mail-eats-mail world out there.
That's why, at Ballpoint Marketing, we help investors and agents stand out from the clutter by providing hand-written direct mail. These letters and postcards are written by robots with real pen and ink that indents the paper and are 100% authentic.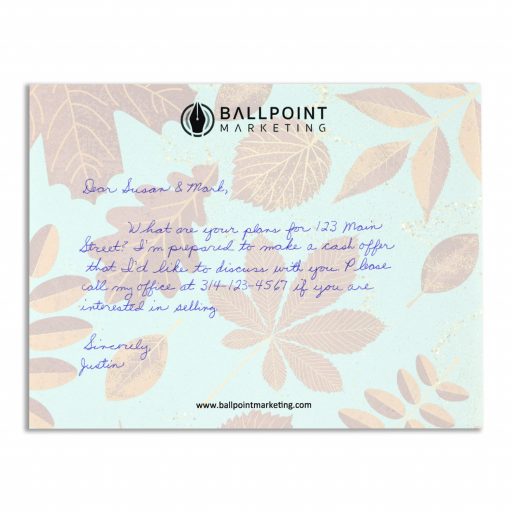 And they get record-high response rates.
Check out what a few investors say about our mailers below…
"BPM letters are critical to helping us stand out in our very competitive market. On every appointment, we go on we always hear things like: 'I love the handwritten letter!' 'That's such great marketing!' 'They really made you seem more legit!' We've even heard numerous times from sellers that they get letters regularly, but we were the first ones they have ever called. We've tried cheaper marketing and got what everyone else got… silence. If you're going to try direct mail, do it right. Use BPM."

– Mike DeHaan, Washington Wholesaler
"This year, from BPM, we've closed 31 wholesale deals [average profit = $17K], and 5 new rentals, a few flips, and a 90-unit storage facility."

– Tarah and Billy Fernandes, DFW wholesalers/Investors
We also have golden letters for real estate agents that work extremely well…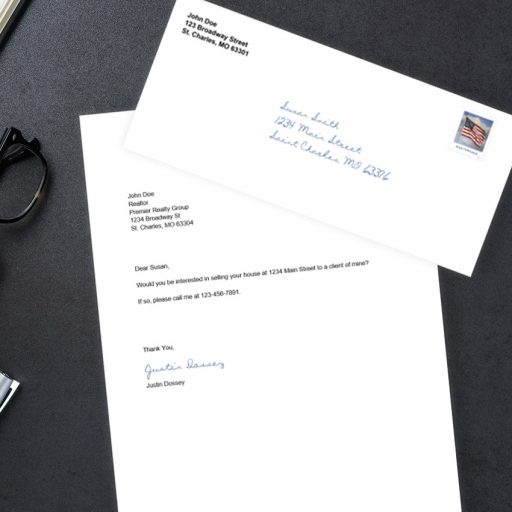 In fact, you can learn about just how well they work (and exactly how to use them) in the case study we recorded below with Wes Litton…
2. Deal Machine — For D4D
DealMachine is a great tool I use for pulling niche lists. They have the best map select tool I've ever seen. They have MLS data to run Comps, and it's really straightforward. You can also upload a list to DealMachine and it will tell you who owns each property immediately.
DealMachine was originally known for their D4D app (Driving 4 Dollars). It's a great way to get started, particularly if you have a smaller budget. This is a list no one else has and is great for finding your first deal.
3. Propstream — For Pulling Lists
You can use Ballpoint Marketing to create and send high-converting mailers. But where are you going to pull the addresses for actually sending those mailers?
Propstream is our favorite tool.
With it, you can access tons of niche lists and pull big amounts of data with just a few clicks — in any U.S. market. It has some of the most updated data and advanced filtering, which is why we recommend it for both agents and investors.
4. Call Porter — For Answering The Phone
Now you've got tools to pull big data sets and send mail… but the more mail you send, the more the phone is going to ring.
Particularly for investors, the phone will ring at all times of day: when you're trying to relax, spend time with your family, or decompress from a long day at work.
That's why we love Call Porter.
Call Porter is a real estate live answering service built for real estate investors, by real estate investors. The U.S.-based reps are trained to talk specifically with motivated sellers. They'll field you inbound leads, get critical upfront information, and then schedule a follow-up call with you or your acquisitions manager.
This might not be necessary if you're just getting started.
But the more the phone is ringing (and the more those random calls are derailing your day), you might find Call Porter well worth the investment.
5. Carrot — For Inbound Lead Generation
Think about this.
Someone receives your mailer and they are, in fact, interested in selling their home.
But they don't know you. They've never met you before. And so they're also a little bit wary.
What is the first thing they're probably going to do, then, before they call you?
They're going to look you up online!
And Carrot is the best way we've found to quickly and easily build an online presence — they provide websites, SEO tools, monthly blog content, and some great analytics software for both agents and investors.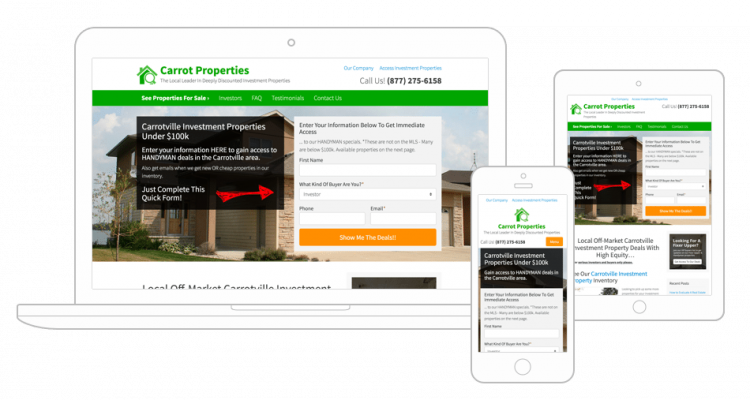 6. REsimpli — For Managing Lead-Flow
This is the final tool we recommend for your direct mail marketing strategy: RESimpli.
The more mailers you send, the more confusing and cluttered all of those campaigns and data are going to get. Common mistakes include contacting people who've asked not to be contacted, mailing the same lists (unintentionally), and leads falling through the cracks.
RESimpli is our favorite CRM built specifically for real estate investors. You can track your mailers, lead-flow, deal-flow, and follow-up processes all inside of a single software. It's critical for keeping things organized.
If you're an agent, here are some other CRM options you might conside (near the end of that list, there's some more general CRMs that would work well for agents).
Also Read: 10 Real Estate Mailing Ideas That ACTUALLY Work
Best Mailing Lists For Real Estate Investors
Earlier, we told you that Propstream is our favorite software for pulling mailing lists.
But exactly what lists should you pull if you're an investor?
Check out the video below…
Not only will Ryan reveal his top mailing lists for wholesalers and investors, he'll also show you exactly how to pull those lists in Propstream.
Here are some of the main lists that real estate investors should consider targeting with their direct mail campaigns.
Absentee + Vacant — Homeowners who live out of the state or country where their property is located are considered absentee owners. If their home is vacant, that's another indication they may not be too attached to it.
High Equity + Absentee — When a property owner has equity in their home but also live far away from it, they may be willing to sell for less than market value in order to save on the hassle and expense of managing the property from afar.
Empty Nesters — Older homeowners who no longer have children living at home are often good candidates for selling their property. They may be looking to downsize or move to a retirement community.
Tax Delinquent — Homeowners who are behind on their property taxes may be motivated to sell in order to avoid further penalties.
Free & Clear — Homeowners who don't have a mortgage on their property may be more willing to negotiate on price since they don't have to worry about paying off a loan.
Expired Listings — If a home doesn't sell after being on the market for a certain amount of time, the listing expires. The owner may be more motivated to sell at a lower price once their listing has expired.
Active Liens — If a property has any active liens against it, the owner may be motivated to sell in order to clear up the title.
Active & Dismissed Bankruptcies — Both active and dismissed bankruptcies are good indicators that an owner may be struggling financially. They may be more willing to sell at a discount in order to get some relief.
Pre-Foreclosure + Equity — Homeowners who are in pre-foreclosure may be willing to sell in order to avoid a formal foreclosure proceedings. If they have equity in their home, they may be more open to negotiating on price.
Inherited Properties — Homeowners who have inherited a property they don't want may be willing to sell at a discount in order to get rid of it.
Another option for building custom (less competitive) mailing lists is to drive for dollars. This means driving around neighborhoods and writing down the addresses of properties that appear to be in distress.
Also Read: 10 Proven Real Estate Mailer Examples For Investors
But What Should You Say?
If you want to peak's people interest and get the phone ringing, then it's important to think about what you're going to say in your mailers.
Want to take a look at our most successful campaigns investors at Ballpoint Marketing have been sending recently?
Feast your eyes…
Version 1
Dear [seller first name],
My name's [first name]. I'm a [property city] local home buyer. Have you considered selling [property street # & name]? You can sell without fixing it. Call us at [phone number].
[first name], the as-is buyer
Version 2
Hi [seller first name],
This is [first name]! We mailed you last month about [property # & street address]. We can buy it with no realtor fees added. Would you like a cash offer? Call me: [phone number]
[first name]
Version 3
Dear [seller first name],
If you're considering selling your property, we'd like to buy it.
It's cash. So no banks or buyers slowing it down.
Call me at [phone number].
[first name], the fast buyer
Version 4
Hello [seller first name],
We'd like to buy your house at [property street # & name]. I'll give you a cash offer this week, and close on the day of your choice! [phone number].
[first name], the flexible buyer
Version 5
Hi there [seller first name],
You can sell your property with absolutely no hassle. Just 1 appointment and your house is sold.
Give us a ring for an offer: [phone number]
[first name], The hassle-free home buyer
Version 6
Hello [seller first name],
I'd like to give you a hassle-free cash offer to buy your house, this week.
If interested, can you call me? We're local. [phone number].
[First name], [company name]
Version 7
Dear [seller first name],
If you're looking to relocate and sell your property, we'd like to help with an easy cash sale. We'd like to give a cash offer on your property. Calls us: [phone number]
[first name]
Also Read: 10 Best Mailing Lists For Wholesalers Right Now
Direct Mailing Strategies For Real Estate Agents
The direct mailing process for agents is typically a bit different.
Instead of pulling niche lists, most agents rely on "farming" certain neighborhoods.
This means that they periodically send mailers (every 6 months to 12 months) to various neighborhoods they're interested in working. A real estate agent might, for instance, have 12 different areas they're farming… and send one mailer per year to each of those areas (meaning they're sending one set of mailers every month).
You can learn exactly how this works in the free training below…
But What Should You Say?
Here's the golden letter that Ballpoint Marketing agents use — in fact, it's the exact mailer that Wes Litton uses. And it works extremely well for snagging listings and even for finding buyers.
Dear [name], 
Would you be interested in selling your house at [address] to a client of mine? 
If so, please call me at [phone number]. 
Thank you, 
[name]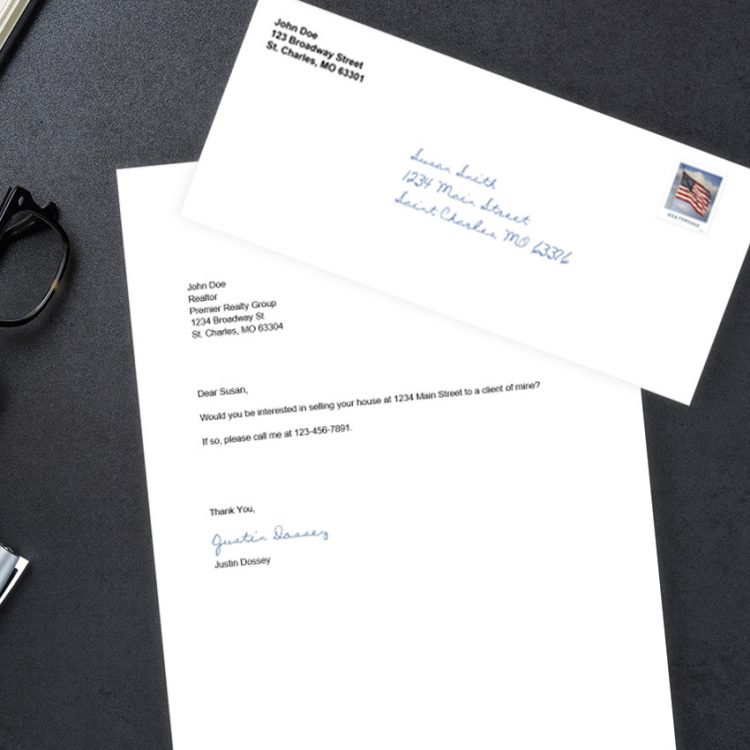 Also Read: Commercial Real Estate Direct Mail: The Ultimate Guide
How To Determine Your Direct Mail Budget
Direct mail isn't free.
And before you start sending mailers, it's important to determine your budget.
The best way to do this is to work backwards from how many leads you want to generate or how many real estate listings you want to nab.
If you're a real estate investor, for instance, looking for wholesale deals and you want to do one more deal per month, then the question is how many mailers per month will it take to generate an additional deal?
According to most real estate investors, it's reasonable to expect to send between 500 to 1,500 mailers per deal — you can see a BiggerPockets discussion about it over here. That works out to about $500 to $2,000 (depending on the type of mailers you send).
Many people getting started out send about 100 mailers a week (or postcards) and just stay consistent until they get their first deal. As their business grows, so do their mailing habits and systems.
For real estate agents, the process is a little bit different.
Most real estate agents "farm" neighborhoods that they want to work with — this is a long-term strategy that means sending mailers periodically (say, every 6 months) to property owners in their target locations. You can farm more or less neighborhoods based on how deep your pockets are.
But if you're just getting started — whether you're an investor or agent — expecting to spend about $150 per week is pretty reasonable.
Also Read: 19 Real Estate Direct Mail Templates That Work Right Now
Final Thoughts on Real Estate Direct Mail
That's all there is to it.
Obviously, you'll learn a lot of nuances along the way… and it's important to continually test and adapt until you figure out what works best for your busines.s
But the information in this guide should get you started.
Now it's off to the races!