Direct mail marketing is still one of the most commonly used forms of marketing in the real estate industry.
And real estate postcards are still one of the best ways to get the attention of buyers, sellers, and build your pipeline with off-market deals.
If you're interested in using postcards to grow your business, we're here to help.
In this guide, we're going to break down some of the biggest benefits of using direct mail, tips for improving your campaigns, and some of the most effective postcards we've ever used.
The Benefits of Real Estate Direct Mail Postcards
Many investors write off direct mail because they associate it with the common spam that ends up getting thrown into the "B" pile — or straight into the trash can.
However, when you run your campaigns the right way, use the right postcards, and use the right messaging, direct mail can still be a highly-effective way to find off-market deals.
To show you what we mean, check out some of these benefits & statistics:
Increase Your Brand Recognition — 42.2% of direct mail recipients either read or scan the mail they receive, helping them recognize the brand or company that sent it to them. (Source: Data & Marketing Association)
Create an Influx of Leads — With the right list & targeting, you can get response rates up to 9% for house lists and up to 4.9% for prospect lists, compared to 0.2% to 0.5% for "shotgun" blasts into an area or zip code. (Source: ANA/DMA Response Rate Report 2018)
Get Higher Open Rates — Direct mail open rates can range from 80-90%, compared to an average email open rate of 20-30% on a warm email list, or 1% to 2% on a cold email list. (Source: Print in the Mix)
Stay Top Of Mind — Direct mail generates a 37% higher response rate than email when it comes to fundraising campaigns by helping you stay in the minds of people who are motivated to use a service or company like yours. (Source: Nonprofit PRO)
Reach New Prospects Before They Buy Or Sell — 48% of people retain direct mail for future reference so you're the first company they think of whenever they are ready to buy a new home or sell their home. (Source: DMA)
It's Quick, Automated & Scaleable — More importantly, direct mail marketing campaigns can be scaled as large or as small as you need them, while being completely automated.
For even more stats showing exactly how effective & beneficial direct mail marketing can be for your real estate business, check out these 30 Direct Mail Marketing Statistics.
Our Top Tips For Sending Real Estate Direct Mail Postcards
If you want to start using postcards for your real estate business, don't take the same approach most investors take.
They will pull lists of data and then blanket an area or market with the same message over and over again — while getting extremely low response rates.
While most investors expect to receive around 2 to 5 responses for every 1,000 mailers they send, we've been able to generate between 10 and 15 responses with the same lists.
The tips below will help get you started and show you how we've been able to achieve those response rates while so many other investors struggle to make direct mail work.
Tip #1: Target Your Audience
Who you're mailing to is equally as important as what you're mailing to them.
To make your campaigns as effective as possible, you want to make sure you're starting with good data. Don't just pull lists and start sending. That's a recipe for low conversion rates.
Instead, filter the data you get back to make sure you're sending hyper-targeted messages to the right person at the right time, based on what you already know about them.
To give you an example, rather than blanketing a zip code with the same "Want to sell your house?" or "We buy houses fast!" message, how much more effective do you think a campaign would be if you were targeting vacant properties with tax delinquencies?
Or properties with absentee owners who are facing foreclosure?
And then you sent them a message catered to their specific situation and the struggles they're dealing with at the moment?
Not only would you save a ton of money on your mailers because you aren't blanketing an area but your response rate would dramatically improve because it's based on where your potential prospects are at in the seller's journey.
If you want even more criteria to use to filter your lists down into more manageable data that uncovers higher seller motivation levels, check out our Ultimate Real Estate Direct Mail Marketing Guide that breaks down 10+ different list types you can use to target your audience.
Then, after you've pulled your data, use a tool like Propstream to filter the lists based on the criteria in that guide, stacking the data so your mailers are as targeted as possible.
2: Determine Your Budget
Before you start any marketing campaign, you need to understand the costs and the budget you have available for it.
To give you an idea of the costs, take a look at this postcard sequence.
For 1,000 mailers, you can expect to pay around $1,110 with a response rate of around 10 to 15 calls per 1,000 pieces you mail.
That works out to around $74 to $111 per call — making it extremely easy to set your marketing budget and know how much you're going to spend from month to month.
On top of that, if you subscribe to a full 7-month campaign sequence, you can save an additional 20% bringing your cost-per-call to $59 to $88 per call.
Those mailers are sent directly from the printing house to your prospects, too, so all you have to do is upload your data and let our printing house do the work. That saves you a ton of time and energy dealing with the USPS Every Door Direct Mail program.
They're also designed to deliver variety to your prospects so they aren't seeing the same old boring mail every month.
Each message is tailored to a different objection or misconception they have about working with an investor, making them incredibly effective at building your brand recognition, generating leads, and keeping you top of mind.
3: Be Consistent (& Follow Up!!)
With direct mail, like other marketing strategies, the fortune is in the follow up.
Many times, prospects won't interact with your company until they've seen your brand and message anywhere from 7 to 12 different times.
That means you need to be consistent in your marketing. Don't send 1,000 pieces one month then take two months off and pick back up again in the 4th month.
To build your pipeline the right way, you want to have deals at each different stage, from new prospects to getting to the closing table. Consistency in your marketing is how you do build it the right way which is why the postcard sequence service is so valuable.
With the service, all you do is choose the postcard you want to send, the message you want to use, upload your list, and then let our printing and mail house handle the rest for you every month — saving you a ton of time, money, and energy.
4: Track Your Campaign
Testing different messages and tracking their performance is how you make your direct mail campaigns outperform other marketing strategies.
To start tracking, think about how you want prospects responding.
If you are driving traffic to your website, make sure the postcards you send have a dedicated landing page on your website so you know which campaign drove them there.
Or, if you're having them call your phone, set up a dedicated phone number that goes out with each campaign so you know which campaign gave you the greatest results.
Whatever your objective is, make sure you have tracking in place to determine which messages and campaigns are performing — and which ones can afford to get cut.
5: Send a Postcard They'll Keep!
One of the worst things you can do in direct mail marketing is send boring postcards — boring postcards get tossed in the bin.
To keep that from happening, there's two main goals that you want to hit.
The first is making sure the message you include on the postcard is actually relevant to the person you're sending it to. Using Propstream to pull lists, filter the leads, and then stack your data is a great way to make sure your messaging is targeted to where they're at in the journey.
The second goal is making your postcard something people would want to hang on their fridge.
Your postcard's design should not only get attention, but it should be able to keep attention.
That's why our Americana postcards are some of our most popular — and most stolen — because they look good and they add to the decor instead of being another boring piece of black and white mail that gets tossed in the trash.
The Best Real Estate Direct Mail Postcards We've Tested — That Stand Out & Convert Like Crazy
At Ballpoint Marketing, we've had the pleasure of testing hundreds of different templates and mailing millions of pieces of mail — so we've gotten insight into exactly what works and, more importantly, what doesn't work.
Below is an example of two of the highest-converting templates we've ever used plus what makes them so effective at getting responses.
1: The Americana Sequence
Each month, a new postcard in the sequence is sent out to your list helping you stay consistent and at the top of your prospect's minds so you're the first person they think of when it comes time to buy or sell.
When your prospects open their mailbox, these postcards are designed to stand out and get attention — instantly setting them apart from every other piece of mail they'll get.
On top of that, since each postcard in the sequence follows a specific trend, Americana and nostalgia in this example, your prospects are more likely to hang them on the fridge.
Designing your postcards like this can get your prospects looking forward to receiving them each month, especially once they see them coming in after the 2nd month.
The design of these cards makes them a collectible series in the eyes of your prospects.
With each of these postcards going out on a monthly basis, do you think they would be able to forget who is sending it to them?
Each additional postcard contains a very specific message to help your prospects understand who you are and how you can help them the most.
They also feature highly-targeted messaging specific to real estate agents and investors so even though the designs are classical and timeless, the messages are proven to convert.
Each postcard contains a different message and builds on the postcards previously received so even though they're marketing messages, the entire collection adds a fun and exciting twist to receiving direct mail advertising.
By the time your prospects receive the 7th postcard in the sequence, they have the full collection, know who you are, how you can help them, and who to contact when it comes time to buy or sell their home.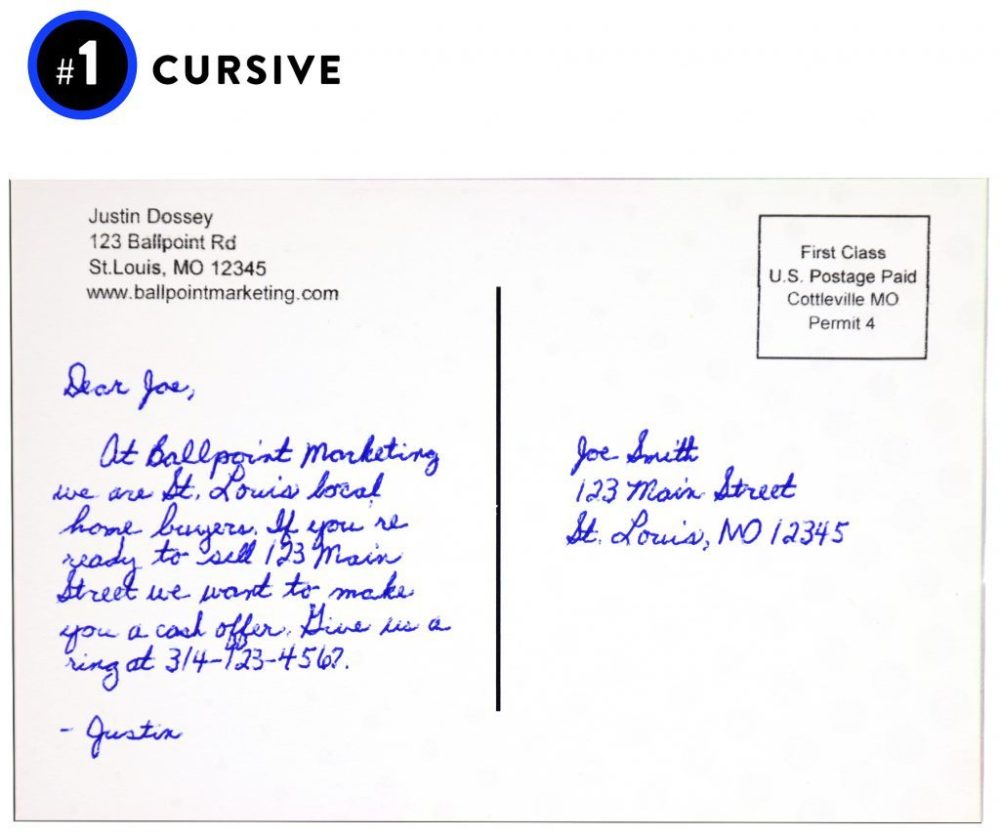 Then we get to the back of the postcard.
Each one is printed using a technique that mimics ballpoint pen ink and makes them look like they were written and addressed by hand, adding that extra personal touch to your mailers.
The full 7-month campaign makes sure you get in front of your prospects enough times to build brand recognition, be remembered for the mail you sent, and give you a chance to turn a lead into a prospect when the time is right.
To get started using our Americana sequence in your campaigns, click here now.
2: The Comic Card Sequence
The second postcard campaign that's been proven to pull higher-than-average response rates is our Comic Card Sequence.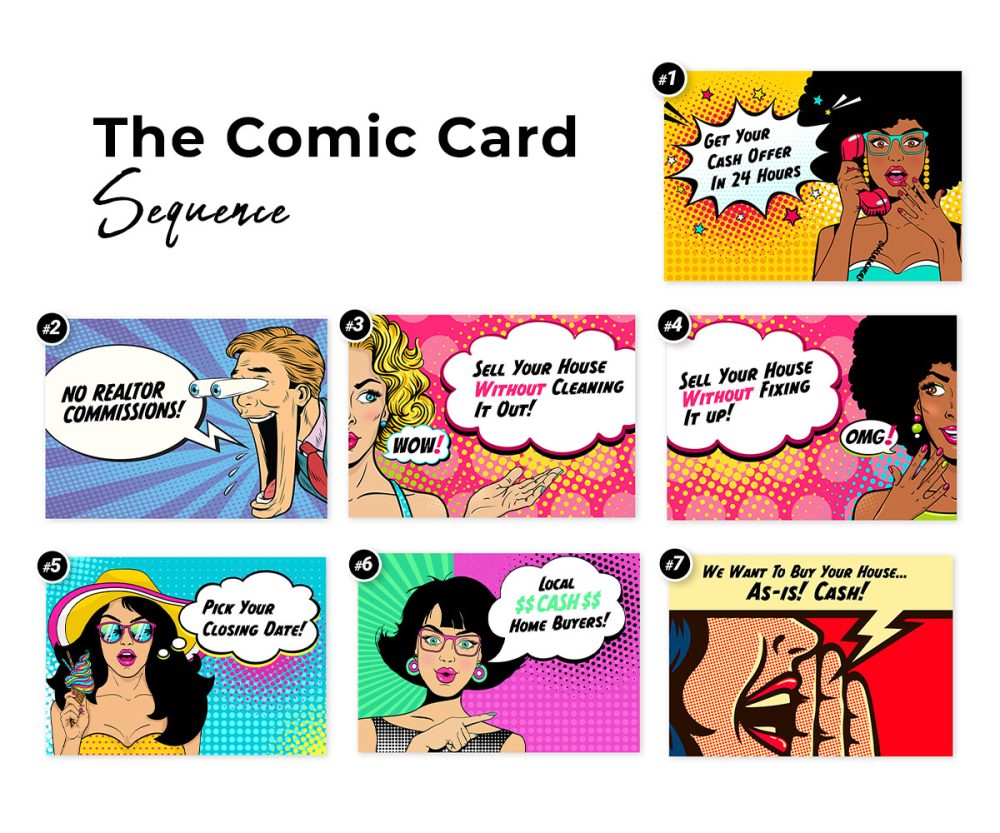 This sequence uses 7 different comic card-style designs that stand out from the rest of the mail your prospects receive and make it easy to be remembered.
When your prospects grab this card out of the mailbox, they'll immediately see they can receive an all-cash offer within 24 hours if they respond.
Many prospects are unaware they can sell their home without paying expensive realtor commissions — which is why this card lays it out front-and-center.
One of the worries prospects have is that they can't sell their house until they clean it out.
This postcard focuses on addressing the objection head-on and lets them know they can take the belongings they want to keep and leave the rest behind.
Another worry they'll face is thinking they need to fix or repair the property before they're able to sell it. This postcard addresses that objection head-on.
The 5th card in the sequence helps ensure they know that working with you is convenient so if they have a due date to relocate or they want to wait until the school year ends, for instance, they can choose the date they close on the property.
Reminding your homeowners that you're local, give back to the community, and know the areas you're working in always helps so they know they can contact you and quickly meet in-person, if needed.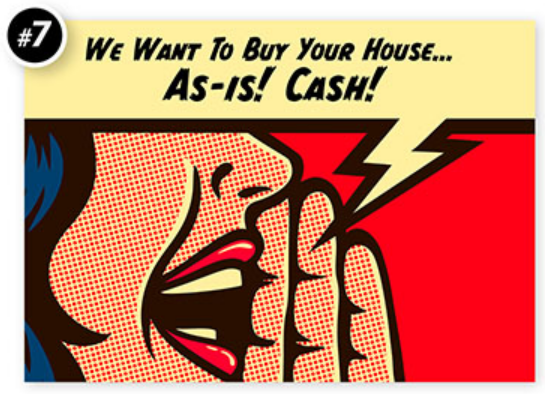 The final message in the sequence is a gentle reminder that you're willing to buy their home the way it sits for cash — making the process as easy as possible for them.
The back of the postcards appear the same as they would if you wrote each one out by hand with the benefit of not having to actually write 1,000+ pieces at a time.
This personalized touch makes a huge difference in terms of response rates and each message you send can tie the front of the postcard into the filters you've used to build your lead lists.
Based on where your prospects are at in their journey, each card has a chance of getting in front of them with the right message at the right time.
And with both sequences being timeless designs, these are the type of postcards that get hung on the fridge so you're the first person they think of when the time is right.
If you're looking for even more ideas, here are 19 Real Estate Direct Mail Templates that are proven to work in 2023.
Here are a few more postcards we've recently added to the mix — because we tested them and they PERFORMED.
3: Apartment Postcards
Want to find and buy apartments? We created a postcard just for that!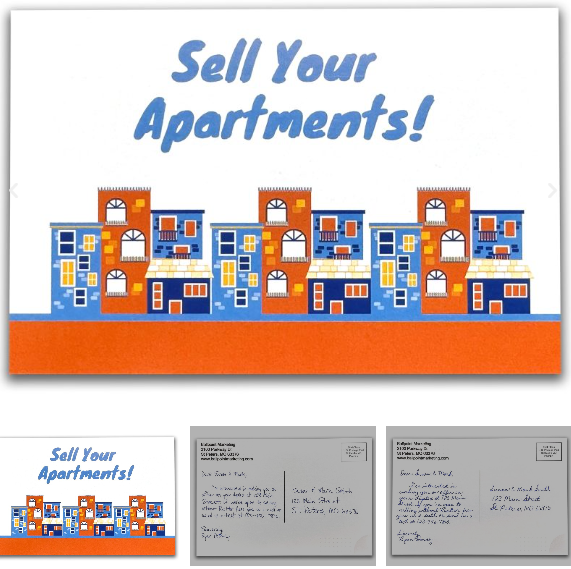 4: Buy Your House Postcards (No Minimum Order)
For a long time, people have been asking for us to create a hand-written postcard with no minimum order (you can even order just one!). And we did it! Here's what it looks like…
Final Thoughts
When done right, real estate direct mail postcards are still one of the most effective marketing strategies you can use to grow your business.
The key to a successful direct mail campaign, though, is consistency and variety which is why we've designed our postcard sequences the way we have.
Each sequence covers a span of 7 months so you don't have a rollercoaster of leads coming in — with a bunch of new leads one month, then multiple months of no leads because you didn't keep mailing.
They also ensure that you're getting in front of your prospects enough times to be remembered so even if the time isn't right, right now, they'll know who to call when it is time to sell.
To get started using either our Americana or our Comic Card series, click here now.
They're some of the most effective campaigns we've ever mailed and, when you subscribe to the sequence, can save you more money over printing cards and mailing them using a program like the USPS EDDM program.