How do you find motivated sellers?
It might seem confusing and overwhelming trying to generate a consistent flow of motivated seller leads.
But it's not as complicated as it seems.
In this guide, we'll show you 10 different PROVEN methods for finding motivated sellers. These work in any market (even in seller's markets) — we know because we work with hundreds of real estate investors around the nation.
The process isn't complicated.
It's simple. It just requires a bit of grit and persistence.
But before we get into that, a quick definition — and then we need to dispel a common myth.
What's a Motivated Seller?
A motivated seller is a property owner who, for one reason or another, is motivated to sell their home quickly. Motivated sellers are exactly what real estate investors try to find because they're much more likely to accept a below-market cash offer.
But… why would a homeowner be motivated to sell their home fast for cash?
Here are some of the top reasons:
They need to sell quickly due to a job loss or transfer
They're going through a divorce and need to split the proceeds asap
They're behind on mortgage payments and facing foreclosure
The property is vacant and they're tired of paying for the upkeep
The repairs needed are too expensive or they don't have the time to fix it up
They're relocating for a new job or opportunity
Of course, there are a million different personal reasons that a homeowner might be motivated to sell — so keep in mind that every situation is unique.
The Myth of Motivated Sellers
Real estate investors spend a lot of time talking about how they can find more motivated sellers.
So much so that inexperienced investors often think of that term as referring to homeowners who will beg them to buy their home — "Take my house for very little money! Because I stubbed my toe!"
But that's a myth.
Check out the video below where Ryan Dossey and Greg Helbeck (two seasoned real estate investors), explain and debunk this common misconception…
So when we talk about "motivated sellers", we're not talking about people who are so desperate to sell their property that they'll blindly take you up on your first offer.
We're talking about reasonable and smart people who know you're low-balling them and don't care. They are in a situation where they would rather have a quick and fast transaction even if it's a little less profitable for them.
Why does this matter?
Because when you're finding and interacting with motivated sellers, they might not act or behave how you thought they would. More often than not, they won't be desperate… but they will be reasonable and willing.
That's an important distinction.
With that out of the way, let's talk about 10 proven ways you can find motivated sellers in any market…
1. Hand-Written Direct Mail
Let's start with the best.
The most effective way to get the phone ringing — and to generate motivated seller leads — is to consistently send direct mail.
The best investors send 2,000 to 10,000 direct mail pieces per month.
Of course, it's no secret that a lot of direct mail gets thrown in the trash (before it gets read).
But hand-written mail?
Mail that is written with real pen and ink?
The response rates on that are wayyy higher than traditional letters and postcards — we know because that's the mail our investors use.
Go check out our hand-written mailers and learn more about how they can increase your response rates.
How much mail should you send per month?
Just reverse the math. A 2% response rate is pretty typical for this type of mail. Closing deals on 1 in 30 leads is also pretty normal. So if you want to do one deal per month, you'd want to send 1,500 to 2,500 mailers per month.
You can increase that number as your bandwidth and budget allow.
2. Driving For Dollars
If you want to get in front of more motivated sellers, put some miles on your car.
Driving for dollars (or D4D) is the process of driving around looking for "distressed properties" and writing down the addresses.
By distressed, we're talking about homes that…
Have a "For Sale" sign in the yard
Look like they need repairs (peeling paint, boarded-up windows, overgrown lawns)
Appear to be vacant (unkempt yards, dark windows, newspapers piling up)
The benefit to finding these properties on your own and creating your own cold calling or mailing list is that you don't have to worry about as much competition.
Try to write down at least 100 properties per week. Leave these door hangers on the homes you find. Skip trace the owners to get their phone number and/or mailing address. Then reach out to them and you'll find off-market deals like clockwork.
3. Cold Calling
Text messaging and sending direct mail aren't the only ways to reach the property owners you find from driving for dollars.
You can also cold call them (after skip tracing).
This is where a lot of investors get hung up because they're worried about what to say or how the conversation will go. But it doesn't have to be overwhelming.
Just call them, ask if they are the owner of the property you found, and then tell them about what you do.
They might be interested or they might not.
Here's what this looks like in action…
4. Build Your Network
You've probably heard the phrase, "It's not what you know, it's who you know."
And that definitely holds true in real estate investing.
The more people you know — and the deeper your relationships are with those people — the more deals you're going to get.
That's why it's so important to get involved in your community.
Build relationships with…
Other investors
Property managers
Contractors
Title companies and real estate agents
Attorneys
All of these people interact with potentially motivated sellers on a regular basis and by building relationships with them, you'll naturally get referrals.
5. Expired Listings
Expired listings are houses that were on the market but didn't sell.
The listing is now "expired."
And that's a sign that the homeowner might be motivated to sell — they had a hard time selling the traditional route and perhaps they're willing to sell for a lower cash offer.
The best place to find expired listings is on the MLS. If you don't have a real estate license, then you can work with a real estate agent (networking is critical!) and ask for their help. You can also search public records.
6. Craiglist
This one is a little bit of a long shot, but it's worth mentioning.
You can find motivated sellers by scouring Craigslist in the "Housing" section under "For Sale By Owner."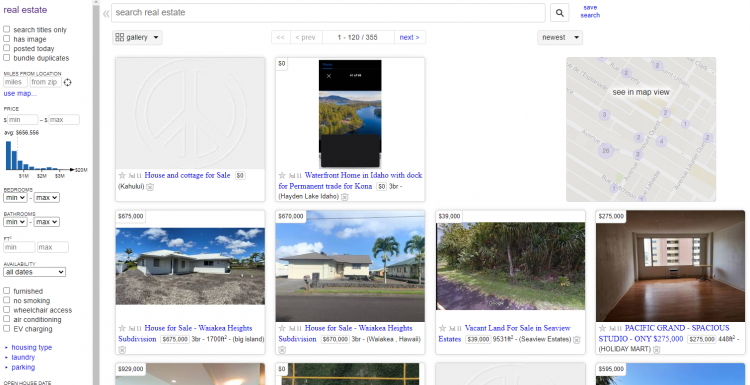 It's not going to be as easy to find deals here — because it's absolutely saturated with other investors doing the same thing — as some of the other methods on this list, but if you're diligent, you might be able to find a gem or two.
7. Facebook Marketplace
Facebook Marketplace is similar to Craigslist, but a little less saturated with competition.
It's a great place to find motivated sellers because it's full of people who are trying to sell their property.
Just search for houses for sale, look for properties that might be distressed or have been listed for a long time without selling, and reach out to the owners.
They very well might be interested in hearing your cash offer.
8. Propstream
Propstream is a powerful tool that allows you to search for distressed properties.
It's a little more expensive than some of the other options on this list — it starts at $99 per month — but it can definitely be worth the investment because it gives you access to a lot of data that you wouldn't otherwise have.
After all, it's a lot of work to drive for dollars and find hundreds of properties per week.
Propstream gives you relevant data and lets you filter and sort that data so that you're sending direct mail only to people who are likely to be motivated sellers.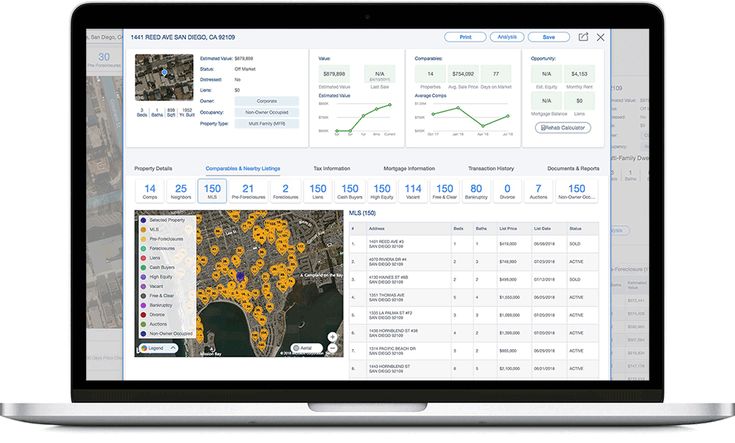 The most common mailing lists for investors include…
Pre-foreclosures (NOD, LIS Pendens)
Probates
Tax delinquent
High equity sellers
Absentee owners
With Propstream, you can get all of this data in one place and start mailing these potential sellers right away.
9. Door Hangers
Door hangers are a low-cost way to reach motivated sellers.
It's a pretty simple process: you buy door hangers, put your marketing message on them, and then hang them on doors in neighborhoods that you're targeting.
(Ideally, while you're driving for dollars)
The key with door hangers is to make sure that your marketing message stands out.
You want it to be eye-catching and you want it to offer a solution to the person's problem.
How do you do that?
Just like with mailers, handwrite them with real pen and ink — we have hand-written door hangers for your right here.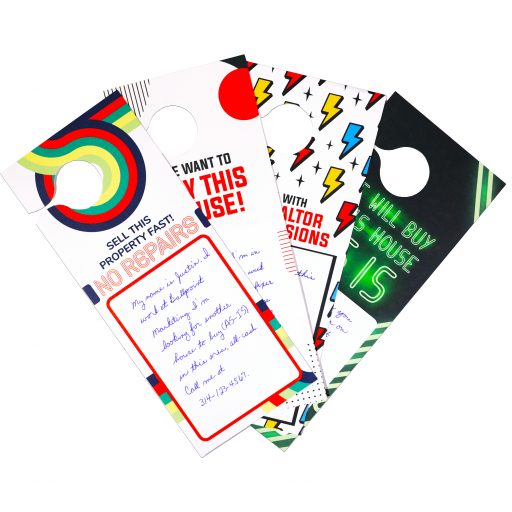 10. Online Marketing
We've dedicated most of this article to sharing offline tactics for finding motivated sellers.
Because frankly — even in a digital world — those still work the best.
But that doesn't mean that there's no place for online marketing.
You can use online tools like Google Ads and Facebook Ads to target people who might be interested in selling their property.
(Retargeting ads on Facebook are particularly effective)
For example, you can set up a Google Ad that only appears when someone searches for "I need to sell my house fast."
When they click on your ad, they'll be taken to a landing page where you can capture their contact information.
You could also write blog posts and try to optimize your website to rank organically in Google.
All of this is great if you're willing to put in the effort… but it feels like an afterthought in this article because it is.
The most effective 3-step process for generating motivated seller leads consistently is outlined below.
No BS.
Here's The Motivated-Seller-Finding Process That Works… Every Time
Okay.
That's a lot of good stuff.
But for those of you who are new, we want to dumb this down even more.
If you're serious about growing your business and consistently finding motivated sellers, then just follow the three steps below. This is the process that makes thousands of real estate investors around the nation millions of dollars every year.
Step 1. Drive For Dollars
The first step to finding motivated sellers is actually pretty simple: you need to get out there and start looking for them.
And the best way to do that is by driving for dollars.
So dedicate an hour or two every day to driving around neighborhoods and writing down the addresses of properties that are distressed.
Also, put hand-written door hangers on every property you write down. This will only take you an additional 30 seconds per property.
Doing that, on its own, will get the phone ringing.
Step 2. Pull Propstream Data
To supplement your driving for dollars strategy, pull the following list from Propstream for your target market: absentee homeowners with high equity.
There are a lot of different lists you could pull, but that's one of the best. And it's exactly where you should start.
Get that data, clean and organize it, and get ready to send some direct mail.
Step 3. Send Direct Mail
Take the data you pulled from Propstream and send hand-written direct mail. You'll get a great response rate by doing that and it will help you build rapport with the seller.
Then just build a clean process for following up with your leads.
That's it.
Literally.
If you do those three steps over and over again, then you're going to win at real estate investing and you're going to beat your competitors.
From there it really just comes down to volume and consistency. Follow this process often… and increase volume when you're able to.
Final Thought on Finding Motivated Sellers
The three-step process we just outlined is the best way to find motivated sellers in any market.
But if you want to get even more creative, then consider using some of the other methods we've shared in this article.
It's not rocket science.
But it is science.
And following a simple but effective process is all you need to be successful.