For both real estate agents and investors, direct mail is the most tried-and-true method for consistently generating leads, finding off-market deals, and/or getting listings.
We might live in a digital age, but this dinosaur doesn't seem to be going anywhere.
I've spoken with hundreds of real estate investors and agents around the U.S. and it's rare to find someone successful who doesn't use direct mail as a primary mode of marketing in their business. The most successful ones send mail every single month. But they also do a few unusual things in order to stand out from the clutter.
Here are 10 real estate mailing ideas that actually work, pulled straight from the minds of successful real estate investors I've spoken with over the years.
1. Farm The Right Areas
This tip is for real estate agents.
"Farming" is a term real estate agents use to describe working a specific area to generate leads and get listings.  But not every area is equal — the first step is to find the right area.
(We have a complete real estate farming guide over here)
Here are some metrics to consider when you're looking at a potential area to farm…
Number of Homes — How big is the area you're going to farm? You want to aim for about 500 to 1,000 homes. You might not farm this area forever… but just for the next few years or so. And you can always farm multiple areas at once if you've got the budget and bandwidth for it.
Turn Over Rate — How many homes sell on average in the area? Aim for an area with at least a 5% turnover rate, meaning that for every 500 homes you have 25 for sale in that market. Higher is better, but if it's too high (like 10%+) then that might indicate that the area isn't so special after all.
Absorption Rate — This is just as important as turn over rate. Absorption rate tells you how fast homes sell and how long for-sale listings stay on the market. A high rate (above 20%) means it's a seller's market (homes are selling quickly); there are a lot more BUYERS than inventory. A rate below 15% means it's a buyer's market; a lot more inventory than buyers.
Potential Commission — If choosing a real estate farming area, it would be wise to also predict what your commission per transaction will be. In this case, take the average listing price in that area, and calculate your commission.
You can find all of that data using the MLS.
Once you've chosen an area, send mail to that zip code every quarter or every six months to stay in touch and increase the chance that you'll get in front of people at the right time. You can use our infamously high-response rate Golden Letters…
… these mailers catch attention exceptionally well from home sellers by mentioning that you might have an interested buyer. Not to mention that the signature, name, and address are all hand-written with real pen-and-ink (that's our bread-and-butter here at Ballpoint Marketing).
As another part of your farming strategy, you might want to consider mailing your past clients every quarter or every other month to increase brand awarness and build your referral network. The lesson of real estate farming is this: the more that you stay in touch with the same people… the more lead and listings your efforts are going to generate.
2. Send Hand-Written Mailers
If you have a mailbox, then I don't need to tell you how easy it is to ignore credit card offers, real estate agent mailers, and insurance discounts.
Most people's mailboxes are cluttered with lots of stuff they don't care about.
Which begs the question… how do you make people care?
The answer is to stand out enought that people actually read your piece of mail and, if they're your target market, take the action you want them to take (i.e. calling you or opting in on your website).
What better way to stand out then with hand-written mailers?
That's what we provide here at Ballpoint Marketing and they get record-high response rates for investors and agents. I already showed you our Golden Letters for agents up above, but here's a glimpse at some mailers that investors can use to target motivated sellers…
(Get them here!)
That's not a hand-written font… it's written with real pen and ink by a hand-writing robot so that the recipient can't tell the difference. You can check out our full catelog over here.
3. Match Your Copy To Your Audience
Unfortunately, a lot of real estate investors or agents send mail that is super generic and doesn't catch the audience's attention very well.
I know this because I've received their pieces of mail (and promptly thrown them away) in my own mailbox.
You probably have, too.
Maybe if you were doing some direct response copywriting for a cheap ecommerce product, then generic mailers sent en masse would actually work… but we're talking people's homes here.
This is a big decision.
And at the end of the day, people are going to work with who they like.
Which is why it's important to match your copy to the people you're trying to target.
Are you trying to target people who own distressed properties? Then maybe send something like this…
Are you trying to target commercial properties? Then maybe send something like this…
You get the idea… whether you're an agent or investor, make the message of your mailers match the audience and you'll get a much higher response rate.
4. Use a Variety of CTAs
As much as possible, you want to match the copy of your mailers to the people you're sending those mailers to (and you can do this by pulling the niche lists we mention in idea #5!).
But of course, you can't know the specific situation of every person you're sending a mailer to, no matter how niche your lists are.
So it's important to send different mailers with different CTAs to the same mailing lists over a period of time — whether you're an agent farming for listings or an investor looking for deals.
An example of this is our Comic Card Sequence we created here at Ballpoint Marketing. This is a series of 7 different mailers for real estate investors — each has a different CTA — and we'll drip those mailers out to your list at the rate of one mailer per month for a total of a 7-month campaign.
And of course there's hand writing on the back of each of those postcards...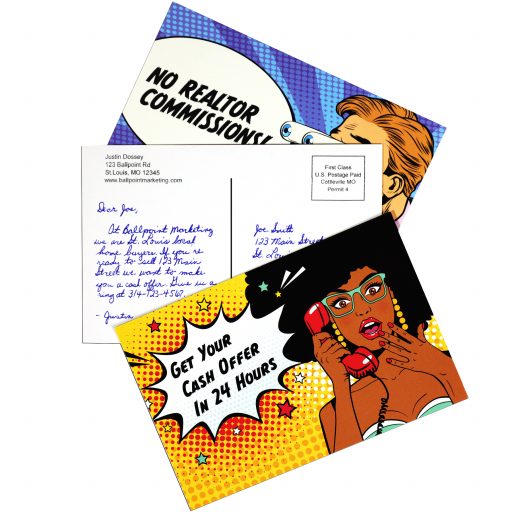 These 7-month sequences get our customers great results because they have a variety of different CTAs to get in front of the right people with the right message.
Here are the CTAs included in the sequence…
Get Your Cash Offer in 24 Hours
No Realtor Commissions
Sell Your House Without Cleaning It Out
Sell Your House Without Fixing It Up
Pick Your Closing Date
Local $$Cash$$ Home Buyers
We Want To Buy Your House… As-Is! Cash!
If you're a real estate agent, you can do something similar. Instead of sending the same mailer to your farming area every quarter, mix it up. Send "Just Sold" postcards one month, "Know someone who needs to sell?" mailers the next, and maybe "Just Listed" notifications the next. Test out different CTAs and see what works for you.
5. Use These Top Mailing Lists
If you're a real estate agent, then follow the "farming" advice in the first tip to figure out who to send mailers to. If you're a real estate investor looking for deals, the process is a bit different.
You'll want to target people based on conditions like vacancy, absenteeism, equity, and indications of distress (such as foreclosure, bankruptcy, expired listings, and so forth).
It just so happens we created an article with the best mailing lists for wholesalers right now (these lists work for any investor looking for a good deal… not just wholesalers). Go check it out for the full details… but here's a quick overview of the lists we recommend targeting if you're a real estate investor…
Absentee + Vacant — Homeowners who live out of the state or country where their property is located are considered absentee owners. If their home is vacant, that's another indication they may not be too attached to it.
High Equity + Absentee — When a property owner has equity in their home but also live far away from it, they may be willing to sell for less than market value in order to save on the hassle and expense of managing the property from afar.
Empty Nesters — Older homeowners who no longer have children living at home are often good candidates for selling their property. They may be looking to downsize or move to a retirement community.
Tax Delinquent — Homeowners who are behind on their property taxes may be motivated to sell in order to avoid further penalties.
Free & Clear — Homeowners who don't have a mortgage on their property may be more willing to negotiate on price since they don't have to worry about paying off a loan.
Expired Listings — If a home doesn't sell after being on the market for a certain amount of time, the listing expires. The owner may be more motivated to sell at a lower price once their listing has expired.
Active Liens — If a property has any active liens against it, the owner may be motivated to sell in order to clear up the title.
Active & Dismissed Bankruptcies — Both active and dismissed bankruptcies are good indicators that an owner may be struggling financially. They may be more willing to sell at a discount in order to get some relief.
Pre-Foreclosure + Equity — Homeowners who are in pre-foreclosure may be willing to sell in order to avoid a formal foreclosure proceedings. If they have equity in their home, they may be more open to negotiating on price.
Inherited Properties — Homeowners who have inherited a property they don't want may be willing to sell at a discount in order to get rid of it.
Another option for building custom (less competitive) mailing lists is to drive for dollars. This means driving around neighborhoods and writing down the addresses of properties that appear to be in distress.
6. Provide Different Ways To Contact You
When you send mail, different people will prefer to contact you or research your business in different ways. Some will just want to give you call. Some will want to look at your website. And some will want to send you an email to find out more.
It's important to provide multiple ways for people to contact you right on your mailer.
For example, with all of our mailers here at Ballpoint Marketing, the phone number and the website URL.
Through my own real estate investing business, I've found that about 1/3 of my direct mail leads go opt-in on my website instead of calling me directly. It makes you wonder if I'd lose out on those leads if I didn't have the website on the mailers.
7. Get The Right Tone
Earlier I talked about how important it is to target the right message to the right people… well, it's also important to create the right vibe or feel with your mailers.
People want to do business with people.
So you don't want to come off too commercial or corporate with your mailers… but you also don't want to come off too casual. Think business casual or small business owner. You want to come off as a real person with integrity who owns a business.
You're not just Uncle George next door… but you're also not some big coorporate business looking to bulldoze the neighborhood.
We think our mailers here at BPM do a great job of striking the right balance.
8. Be Consistent!
This idea is number 8…
But if I could have you take just one thing away from this article, it's this: be consistent with your direct mail efforts.
The agents and investors who win aren't the ones who send mail once and then cross their fingers — they're the ones who understand the value of reaching out to people consistently over the long-term, building brand awareness, getting referrals, and creating word of mouth.
I've always found there's an exponential compounding effect for people who send their mailers consistently every single month. Over years, they naturally annihalate the competition because everyone knows about them.
So don't just send once… send over and over again.
9. Make It Clear That You're Local
When people are selling their home, they don't want to work with some huge nation-wide company…
… they want to work with someone local that they feel they can trust.
In fact, my mailers always get the best results when I make it crystal clear that I'm a local real estate investor who actually lives in the area where I operate.
You don't need to say that you're local outright in your mailers. Instead, just make sure the return mailing address is local, get the local postmark on your mailers whenever possible, and use a local area phone number.
It might not seem like a big deal to you… but it is to the people receiving your mailers.
10. Use An Answering Service
Mail is effective. But it's not free.
Most successful agents and investors consistently spend between $2,000 to $20,000 on mail every single month. The last thing you want to do is let leads generated from your mailing campaigns slip through the cracks because you're not answering the phone when it rings.
Fortunately, there's a simple solution.
If you're a real estate investor, Call Porter answer the phone for you. It's a live answering service that will answer the phone for you and schedule follow-up meetings with you or your acquisitions manager.
If you're a real estate agent and you're struggling to answer the phone when it rings, you might seriously want to consider hiring someone to help.
Final Thoughts
Direct mail marketing has been proven to be effective by thousands of real estate agents and investors around the nation for decades… but that doesn't mean it's easy or simple.
The most successful use real estate professionals I know use the above ideas to stand out and get results — they send hand-written mailers, they're consistent, they farm and target the right lists.
But there's only one way to know if those ideas will work for your business…
Try them out!
The early bird gets the worm.