Looking for vacant properties in your market?
Then you've come to the right place!
In this guide, we'll explain what vacant properties are and why real estate investors are on the lookout for them. Then (most importantly), we'll show you 10 easy ways to find vacant properties in any market.
These methods aren't just hypothetical.
These are the exact strategies that we use in our own real estate investing businesses to find vacant properties.
What is a vacant property?
In real estate investing, a vacant property refers to a property that is unoccupied. This means the owners aren't living in it and it doesn't have any tenants, either.
A vacant property may be a single-family home, multi-family residence (such as an apartment building), or commercial building.
The property might be vacant because…
Its owners have moved away and haven't been able to sell it yet.
The property was left behind in a divorce or an estate settlement.
A tenant vacated the property recently and the owner hasn't found a replacement yet.
The property is being held until the market improves and then it will be sold.
The owners want to sell but they haven't been able to because the house is in poor condition (and they also don't have the means to fix it up).
… or for a myriad of other reasons.
Which brings us to our next point.
Why are vacant properties valuable for real estate investors?
Vacant properties represent an opportunity for real estate investors.
This is because real estate investors make their money by purchasing homes for below market value. They can then sell those properties for a profit on the market or they can hold onto them, fill them with tenants, and build equity.
Whatever the case, the owners of vacant properties are often willing to sell below market value to offload a property that's more work than it's worth.
The fact that the property is vacant, in other words, is a sign in itself that the owners might be interested in selling for a good price. Because the owners aren't living in it… and they aren't making any money from it — in fact, they're likely losing money because of property taxes.
For this reason, perhaps the most popular lists that real estate investors pull and market to are vacant properties where the owner has high equity (80%+). This means they're not making any money from the property and they also don't need to worry about paying off much debt when they sell the property.
So you can start to see how vacant properties represent an opportunity for real estate investors. Vacancy is often a sign of distress and an indication that sellers are motivated. Which, as far as real estate investors are concerned, is good for business.
1. Propstream
Propstream is our favorite place to get real estate data.
You can use it to pull vacant property lists with hundreds or thousands of records in your target market. I'll show you how (it's super easy). You can click the link above to get a free trial.
Then go to your account and enter your target zip code. All you have to do from here is click the big "Vacant" button and you'll get a list of properties in that area that Propstream's data indicates are vacant.
If you want to narrow that list even more, you can filter to include only properties that are vacant and have high equity. Just click on "Filter" and then select "Vacant" under occupancy status and select "High Equity" under quick list choices.
You can then click "Save Search" in the upper right corner to save that list of properties and export them to a spreadsheet — which you can use to send direct mail campaigns (more on that later).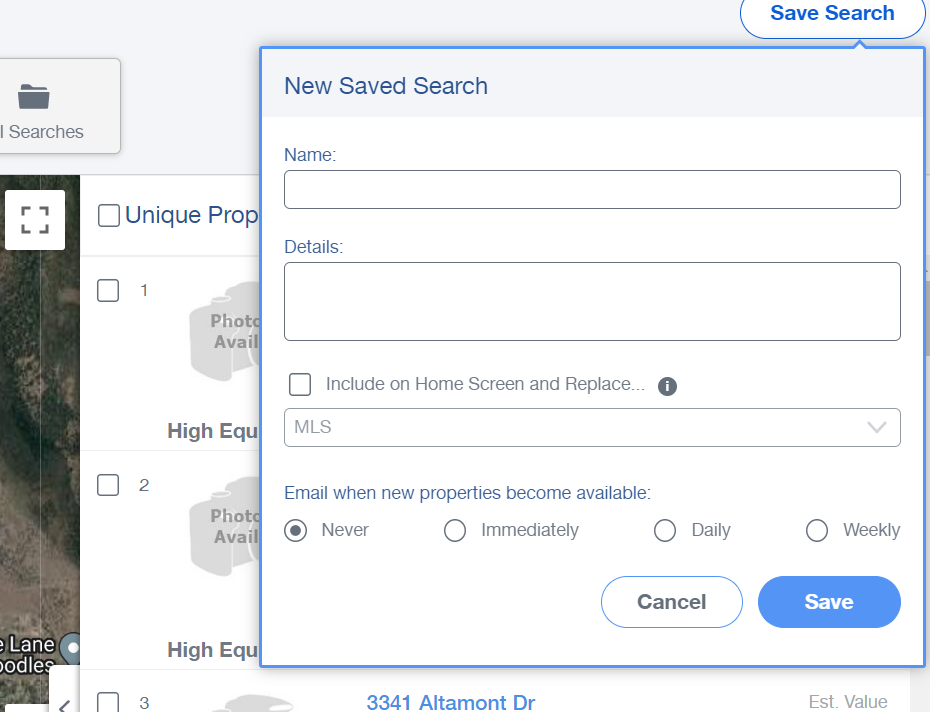 That's all there is to it.
This software is super powerful for pulling niche lists and finding properties to market to. It's easy to find vacant properties with Propstream, but here are some other types of high-value lists you can pull using Propstream…
Pre-foreclosure and foreclosure properties.
Probate properties.
Absentee-owned properties.
… and lots more.
2. Driving For Dollars
Driving for dollars is one of the best ways for real estate investors to find distressed properties, including those that are vacant.
If you're not familiar with it, driving for dollars is justwhen real estate investors drive around looking for potential deals, like rundown houses or those that have been vacant for a long time.
How can you tell?
You're looking for signs of distress such as…
Unkempt landscaping
Overgrown vegetation
Unpainted exteriors
Windows that are boarded up or broken
Dusty driveway
… so on and so forth.
As you drive around, you'll write down the addresses of properties that look like they're distressed. You can then try and contact the owners in a variety of ways (same as if you had pulled the data from Propstream), such as door knocking, cold calling, or direct mail. We'll talk about some of those outreach methods in this article.
But perhaps the easiest, most straightforward way is to use these hand-written door hangers from us at Ballpoint Marketing when you're driving for dollars.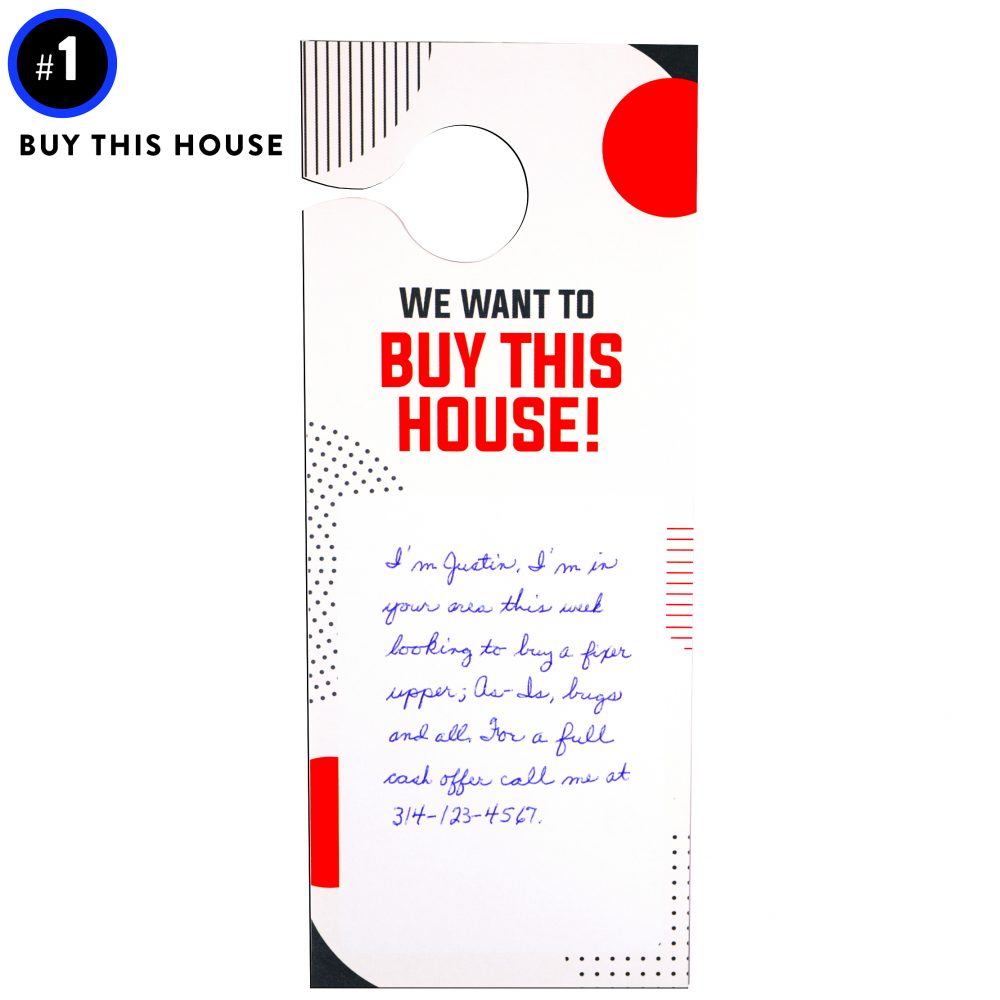 Just hang those on any distressed properties you find when you're driving around and wait for the phone to ring. If you don't want to answer all of the phone calls you'll be getting, check out the service at Call Porter. It works like a charm.
Driving around your target market for just a few hours every week can help you find a lot of investment opportunities. The best part about this strategy is that, if you're in a competitive market, then you're not having to depend on the exact same data that other real estate investors are using… so the deals you find might be less competitive.
3. Government Sites
You can also find vacant properties using public records found on government websites.
For example, the county assessor's site typically has property information and house addresses.
You can use this info to send out direct mail campaigns to vacant properties.
Also, many counties have an online auction website where you can bid on foreclosure properties. To fint these government sites for your local market, just do a quick Google search for  "county assessor" and "foreclosure auctions" with the name of your city attached. That should point you in the right direction.
4. Relationship Marketing
I'm calling this "relationship marketing" because the term feels fitting… but I don't know if that's the official term for it.
What I'm talking about is building relationships with key people in your target market who naturally have vacant properties and other type of investment opportunities pass acrossed their desk because of the nature of their job.
People like…
Attorneys — They tend to handle a lot of legal matters related to real estate, like transfers, probate issues and title searches. It's a good idea to know some local attorneys who deal with divorce or probate issues. Or better yet… for them to know you and what you do.
Contractors — Contractors are often contacted by homeowners who have problems with a property. Sometimes those homeowners end up not being able to afford the contractors services, at which point they might be interested in getting an offer from you. That's why it's useful to know good contractors in the area. They can notify you of possible deals and you can use them to fix up your properties.
Real Estate Agents — Agents typically have the most up to date information about the local market. They can be a great resource for finding out what's going on in a neighborhood. You'll want to make sure you know several agents and develop relationships with them so they can help you find deals when they come up.
Property Management Companies — These companies keep track of tenants, vacancy rates, and property maintenance. They can be a great resource for finding out what's going on in the area and they also manage properties for landlords.
Mail People —  Mail people drive the same routes every day and they naturally see the changes in different neighborhoods. Some savvy investors just pay mail people to write down distressed property addresses for them so they don't have to do their own driving for dollars!
Call these people, buy them lunch, grab coffee, and work on building relationships with them.
Maybe it's casual where you just pass eachother clients and/or investment opportunities when you can… or maybe you actually offer them sort of commission if the deals they pass you actually close.
However you do it, building relationships with key players can give you a huge leg up on other real estate investors in the area… and it's a great way to find vacant properties and other types of real estate investing opportunities.
5. Door Knocking
Door-knocking is another low-cost way to find vacant properties.
Obviously, you can't door knock on vacant properties and hope to find the owner… because the property is vacant. But you can door knock in your target neighborhoods say something like…
"Hey, my name is Mike and I'm a real estate investor in the area looking to buy and fix up properties. Do you know of any homes in the area that seem rundown where the owners might be willing to sell?"
You might be surprised at how many people are willing to give you the address of an eye-sore property in their area.
6. Skip Tracing
We could talk about finding vacant properties all day long.
But if you're going to turn those vacant properties into investments, then you've got to buy them. And to buy them, you've got to find the owners and make an offer. Skip tracing is a useful part of that process.
Skip tracing is how you use publicly-available databases to find the phone number for the owner of a vacant property — this process was originally used by bounty hunters and debt collectors to find contact information. You'll need to know basic information like their address in order to skip trace (which you'll get when you use Propstream or drive for dollars, for instance).
With a tool like Skip Genie, you can find the phone numbers for owners of vacant properties.
7. Cold Calling
Speaking of finding phone numbers. Once you do, one way to reach out to owners of vacant properties and make them an offer is to cold call. Put together a short script, practice it, and start making calls!
Cold calling can be intimidating but it is one of the fastest ways to make offers on properties. With enough practice, you'll get better and better at it.
But keep in mind that many owners will not answer your call or return it right away. That's why you'll want to use software like Call Tools to make the process more efficient. And make sure you're using a CRM like REsimpli to track things like conversations and follow-ups.
8. Direct Mail
Direct mail is our bread-and-butter here at Ballpoint Marketing.
And it's the best way we know of for reaching out to owners of vacant or distressed properties. You can pull a list using Propstream (like we showed you above) and then you can upload that list to our site, order our pen-inked mailers (which get record-high response rates), and send those to the homeowners.
Then just wait for the phone to ring.
Here are some great examples of real estate direct mail.
9. Search Engine Optimization
This is more of an inbound method for finding vacant properties — meaning the owner of vacant properties actually find you. 
Some vacant property owners know that they're in a hairy situation and they go to Google to look for solutions. They type in things like "sell my house fast in [your city]". If your website pops up in the top search results, then they'll likely give you a call!
Not sure where to start with optimizing your website for search engines?
The easiest way we know of for real estate investors to get their websites ranking for high-value keywords like that is to use Carrot. Their websites are optimized to rank in Google, they provide content to rank for various keywords every month, and their websites also are built to convert visitors into leads. Here's a screenshot of what their websites can look like…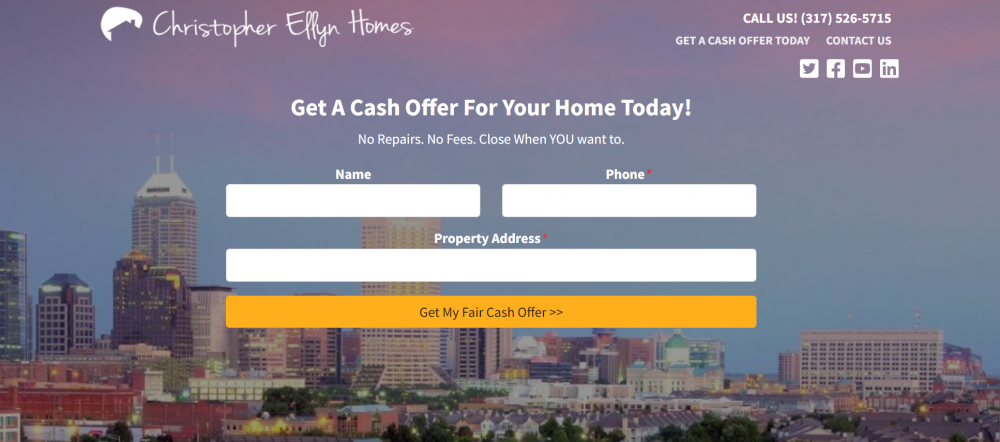 10. Online Advertisements
Last but not least, you can use online advertisements — like Facebook or Google — to find owners of vacant properties and other investment opportunities.  You can target your ads to very specific audiences based on location, interests, and other factors. This allows you to target people who are homeowners and might be in a distressed situation. You can also retarget people who've visited your website, which is one of the best ways to use Facebook ads. Here's an example…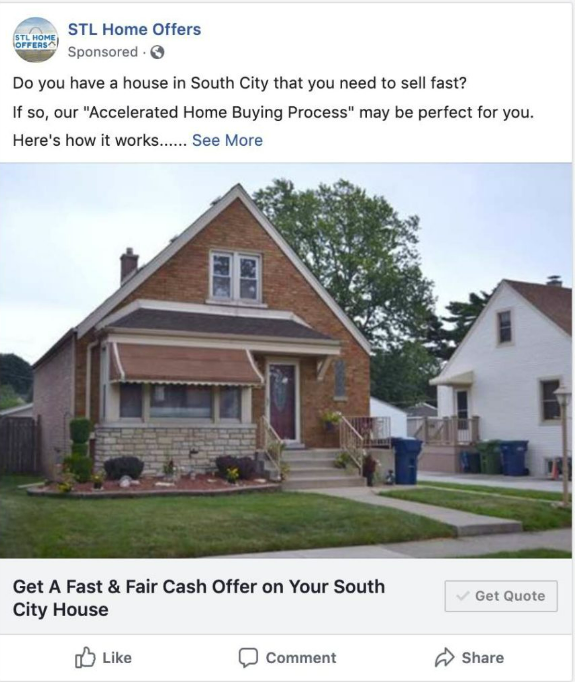 Or you can pay Google to rank for high-value keywords (insteaad of trying to rank organically).
With online ads, you can reach a lot of people quickly and cheaply.
Final Thoughts on Finding Vacant Properties
Finding vacant properties can be a challenge, but it's not complicated.
By using the methods above, you can find vacant properties in your market. Whether it's driving around or using online tools to help you locate them, there are plenty of ways to come across great deals.
Happy investing!