Direct mail is one of the most effective marketing methods for real estate professionals — both agents and investors.
But not all mail is created equal.
Before we launched Ballpoint Marketing, we tested lots of different types of mailers in our own real estate businesses to figure out what works best. From yellow letters and urgent notices to hand-written print fonts and colorful postcards.
After three years, we stumbled upon a unique real estate mail template that works better than anything else.
Hand-written mail with real pen-and-ink (done with hand-writing robots).
An actual piece of handwritten direct mail with a real pen invokes personal trust with a client before you even speak with them.
What happens when a potential customer feels trust? They are more likely to contact you! We have seen consistent average response rates of 1 to 1.5% in all markets (even in the most competitive markets in the country).
Want to see our mailer templates for yourself?
Check them out below! We've got mailers for agents and investors.
Oh — and so you don't just have to take our word for how effective these templates are, we've plugged in some real testimonials from our customers throughout the article. 🙂
"BPM letters are critical to helping us stand out in our very competitive market.

On every appointment we go on we always hear things like:

'I love the handwritten letter!'
'That's such great marketing!'
'They really made you seem more legit!'

We've even heard numerous times from sellers that they get letters regularly, but we were the first ones they have ever called.

We've tried cheaper marketing and got what everyone else got… silence. If you're going to try direct mail, do it right. Use BPM"

– Mike Dehaan, Washington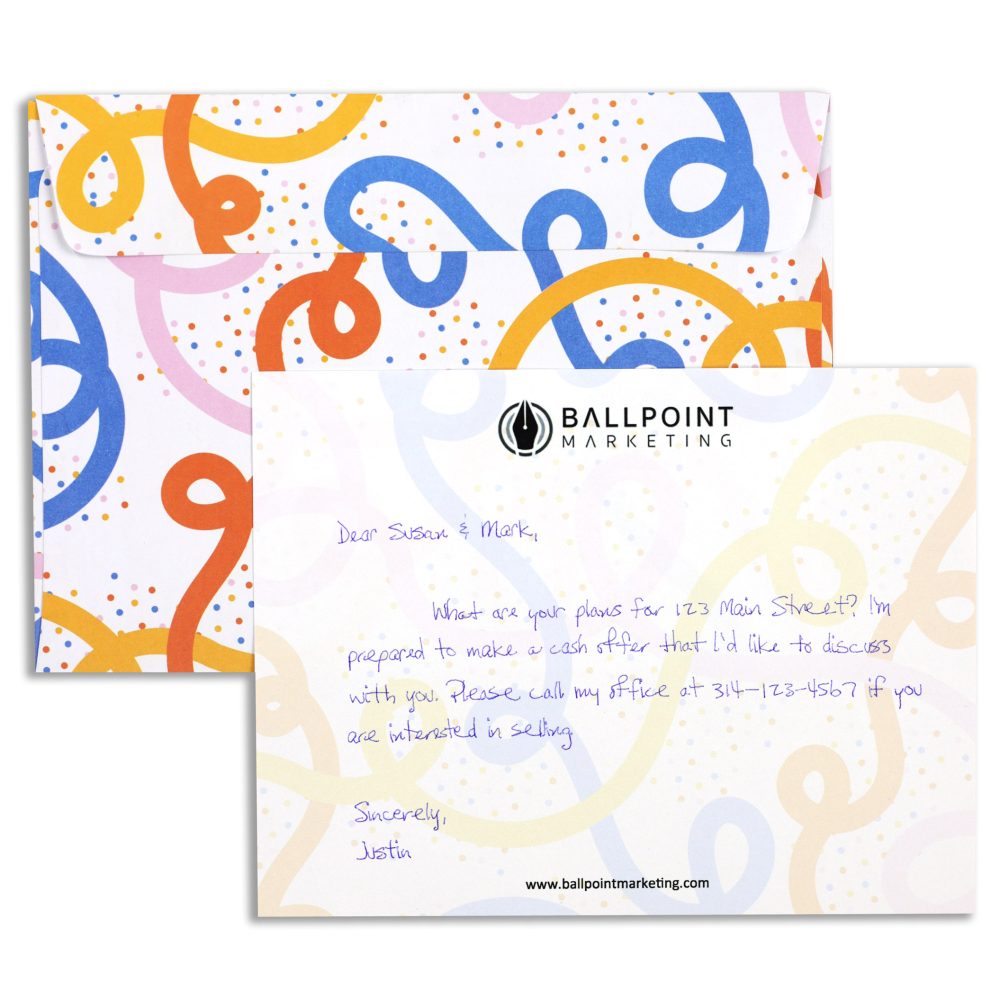 These letters are pen-inked with a personal message on both the front and back. And we've got a lot of different colors and patterns you can choose from.
Better yet, you can send a different color or pattern every month and turn it into a 7-month mailing drip sequence for 20% off our normal price (the most successful investors contact the same list multiple times!).
You can also use these hyper-personal mailers if you're a real estate agent and you want to contact FSBO listings, farm a certain area, or get listings (just let us know what you want the mailers to say!).
"Ballpoint Marketing is the real deal. They produce an amazing product that is unparalleled in the industry.

Bottom line, their product helps investors get and close more real estate deals."

– Steve Uhlig, Pennsylvania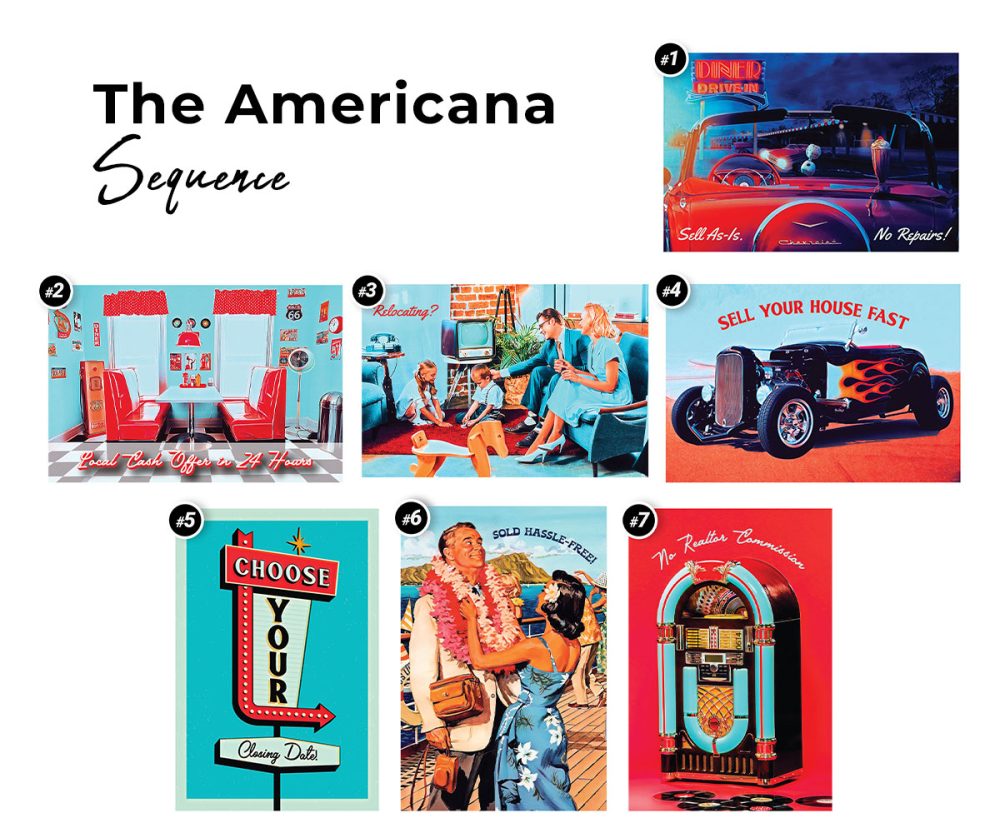 This postcard sequence is meant to stand out when people check their mailbox (rather than fitting right in with all of the trash mail they get). The famous copywriter, Joseph Sugarman, once said, "The sole purpose of the first sentence in an advertisement is to get you to read the second sentence." You can think of the the design of your mailers as the "first sentence." The goal of that first impression is to get people to read the mail and see what it's about. That's what this 7-part sequence accomplishes. On the back of each postcard is a handwritten text.
Each one has a differen CTA so that you're not just following up with your list in a monotonous way… but so that you have the best possible chance of hitting the right people with the right message at the right time.
Here's what each one looks like!
As-Is, No Repairs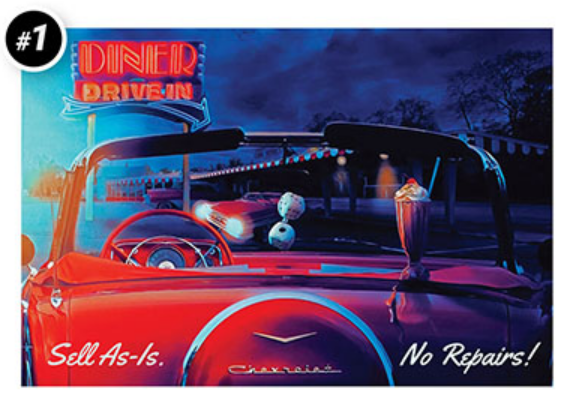 This mailer is for catching the attention of those people who want to sell their house as-is without repairing it — a common concern amongst motivated sellers.
Local Cash Offer
We've found that many people (including home sellers) want to work with someone who's local, like a mom-and-pop business. And mentioning the fact that you're local, like this mailer does, is a great way to increase response rate.
Relocating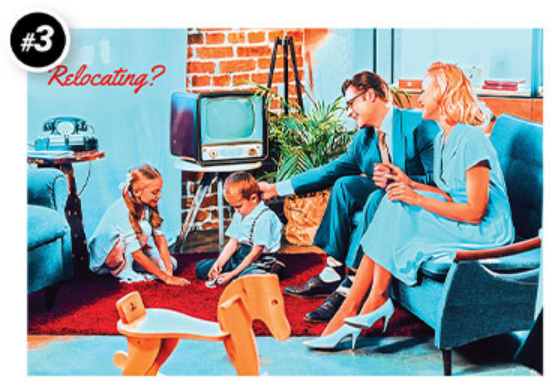 Some people want to sell their home fast for cash because they're relocating. Maybe they got a job somewhere else or maybe they need to move to help family that is ill. Either way, these mailers target that segment of your list.
Sell Fast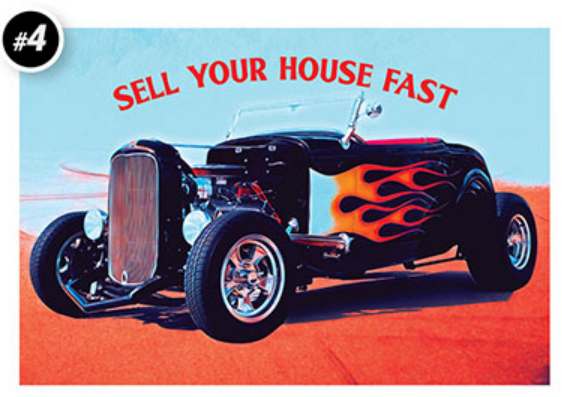 Motivated sellers are called "motivated" because they want to sell… and they want to sell fast. They want to hit the easy button. This mailer emphasizes the fact that you can make selling their home fast and easy.
Choose Your Date
Maybe the people you're contacting don't want to just sell fast, but they need to sell on a specific date. It's entirely possible they'd not contact you because they're worried you'd make them sell before they want to sell. This mailer reminds them that they can pick the closing date.
Hassle-Free
Motivated sellers don't just want to sell fast, they want the process to be simple and easy. This postcard reminds them that the process you use is hassle-free.
No Realtor Commission
Maybe the people you're reaching out to want to sell, but they don't want to use a real estate agent because of the extra costs. This postcard hits on that painpoint.
"We have been using ballpoint for over a year now and it's been our biggest lead generation tool.

We would not be where we are at today without them!

I have acquired 24 doors just in the past year and have flipped over 10 houses that have all came from ballpoints marketing.

Highly recommend these guys and will continue doing business!"

– Mitch Pater, Michigan
The comic card sequence is another 7-month drip sequence we've created for finding deals and reaching out to motivated sellers. Just like the Americana Sequence, these postcards catch the eye and demand attention.
The message on the back is hand-written and, again, each one has a different CTA so you contact the right people with the right message.
Here's a look at each!
Cash Offer in 24 Hours
This postcard delivers the message of cash offers in 24 hours. It's a simple but effective way to tell people you're a serious buyer and have the ability to move quickly on deals.
No Realtor Commission
This postcard speaks to sellers wanting to save money by not having to pay realtor commissions. Here, you can communicate that you're able to buy the property without going through a real estate agent or broker.
"Early on in my business I got several deals from online leads and kind of wrote off sending mail. If I'm being completely honest I still don't like direct mail, but I've gone back to it to add consistency to my lead flow and business. I've sent around 10,000 pieces and that's resulted in 3 deals so far. Oh yeah, and one of those deals plans to sell me their other 4 properties.

It is not uncommon for me to have an appointment where the homeowner tells me they have received mail for years but I'm the first one they've decided to call.

The quality of the mail pieces fits so well with the mission and vision of my business; the seller's immediately feel valued and cared from the moment they open my letter.

Ballpoint has helped me standout in a competitive market and I'm grateful to be an example of direct mail still working."

– Aaron Bihl, Texas
Sell Without Cleaning
This postcard speaks to sellers wanting to get rid of the headache and hassle of having to clean up a property before selling. It conveys that you're an investor who understands what it takes to buy a property in "as is" condition.
Sell Without Repairs
This postcard speaks to sellers who don't have the money or time to make repairs on their property. It emphasizes that you're able to purchase the property in its current condition and can take care of all necessary repairs yourself. That way, it eliminates the hassle for them and ensures a smooth selling process.
Pick Your Closing Date
This postcard informs sellers that you're willing to work with them on closing dates. You understand that they may have time constraints or other commitments and can close as quickly or slowly as needed. That way, they feel in control of the transaction and able to make an informed decision about selling their property.
Local Homebuyers
This postcard reminds sellers that you're a local homebuyer and that you appreciate their business. As a result, it creates an additional sense of trust between the two parties and makes them feel comfortable with moving forward in the sale of the property.
As-Is For Cash
This postcard emphasizes the fact that you purchase properties in their as-is condition for cash. That way, sellers don't have to worry about making repairs or completing renovations before selling. The cash payment also helps streamline the sale process and gives sellers the flexibility of taking advantage of other real estate opportunities without having to wait for a bank loan
"BPM has really exceeded my expectations when it comes to direct mail. I've used different companies before and the response from the handwritten letter has been ridiculously high. Totally surprised me.

Because of their handwritten letters I got my first deal with only 500 letters dropped in the first week."

– Arvi Carkanji, Tennessee
Struggling to get listings?
If you're a real estate agent, our golden letters will help you get in front of sellers so that they list their home with you.
The envelope is just a plain white to keep things relatively professional, but the hand-writing on the outside is sure to catch the recipient's attention. We've actually run tests and found that printed hand-written fonts don't work nearly as well as real pen-and-ink hand-writing.
On the inside is a printed message with your hand-written signature at the bottom. These are great for farming certain areas or reaching out to FSBO sellers.
Trying to acquire commerical properties such as office buildings or retail centers? Our commercial acquisition mailers are a great way to reach out to owners and get your message across. They strike the right balance between personal and professional.
The outside of the mailer has hand-writing in order to catch the recipient's attention and the inside of the letter is printed to look professional with a hand-written sign-off to show how serious you are about purchasing the commerical space. We'll even put your branded letterhead at the top to make it appear more official.
These get great response rates.
"I was struggling and miserable. I was desperate to find something that worked… I tried mailers before (postcards, letters through Propstream, my own letters, mailers from my title company, etc.) and not one form of those worked. They were all terrible quality and we didn't get one call back…. To my suprise, after just sending out my first box which was only a little over 500 (I was scared to buy more than that), we got 3 deals."

– Janelle Paez-Carlson, California
Want to send letters with your own custom branding?  Our professional graphic designers will create a mailer template that fits your exact needs and gets your busiess record-high response rates. These mailers are meant for top investors or agents who are ready to dominate their markets.
These mailers get 2% to 4% response rates in competitive markets where the average response rate is 1%.
Get a Sampler Pack Now For Just $7.95
Those are all of the real estate mail templates we offer here at Ballpoint Marketing (although we're constantly creating and testing new ones, so keep an eye out).
They are super effective.
But don't take our word for it.
Order some and try them for yourself. If you want to see the product for yourself before you order and send them out to prospects, then get a sampler pack here for just $7.95 (it even includes our hand-written door hangers!)
"I have used multiple different vendors for direct mail in times past, but none of them have offered the level of service, quality, and response rate that I am currently receiving with ballpoint marketing.

So glad that we connected, and will absolutely continue to use!"

– Drew Wiard, Indiana