How can you consistently find deals?
Perhaps that's the biggest question every real estate investor has to answer when they're trying to turn their REI side hustle into something more sustainable and permanent.
If you're going to turn your side hustle into a business, you don't just need a deal here and there… you need a consistent and predictable flow of leads and deals every single month.
The good news is, many investors have come before you.
Here are 10 proven, tried-by-fire real estate investor marketing tactics.
1. Direct Mail
Peruse BiggerPockets — or any other REI forum, for that matter — and you'll quickly find that the most common way real estate investors generate leads is by sending direct mail.
Generally speaking, real estate investors will get one deal for every 1,000 to 2,000 mailers that they send (this varies widely depending on the market, messaging, and style of mailer).
That's a lot of mail.
Which isn't a problem.
What is a problem is that the lowest-hanging fruit is also the one with the most bites out of it. Real estate investors in your area pull the same lists with software like Propstream and bombard the same sellers with thousands of mailers per month.
The challenges we've got to overcome, then, are…
Standing out amongst other cash offer mailers.
Sending to less competitive niche lists.
The first challenge is a problem we've already solved here at Ballpoint Marketing.
Instead of basic yellow letters or boring postcards, we produce hand-written (by robots with real pen and ink) postcards and letters that are crafted to build rapport and catch the recipient's attention.
These mailers are getting record-high response rates for investors in many different markets. You can see our testimonials over here. But here's just one that we love…
"We've actually had to slow down because we've gotten more leads than we have time to handle … We've had multiple people tell us that they get hundreds of letters but reached out to us because ours was hand written!" – Travis Hunter, New Haus Properties
As for slimming the competition, check out these 10 best mailing lists for wholesalers (they'll work for any investor looking for more deals).
2. Driving For Dollars
Pulling niche data on Propstream isn't the only way to minimize competition and find off-market properties.
Driving for dollars — although a bit tedious — is perhaps the single best way to find deals that your competitors have no idea exist.
This process is pretty simple. It consists of driving around your target neighborhood looking for properties that appear to be in distress and writing down those addresses. Then you take your list of properties back to base, find the property owners, and market to them.
Sound tedious?
You can streamline this process with a CRM like REsimpli, which, among many other features, allows you to track your driving for dollars routes and easily export your addresses.
3. Door Hangers
When you're driving for dollars, you're already out and about, finding distressed properties that homeowners might be interested in selling.
You could go back to base, find owner addresses, and send mail.
Or…
You could just put door hangers on all of the properties you find — hand-written door hangers so you're really catching their attention…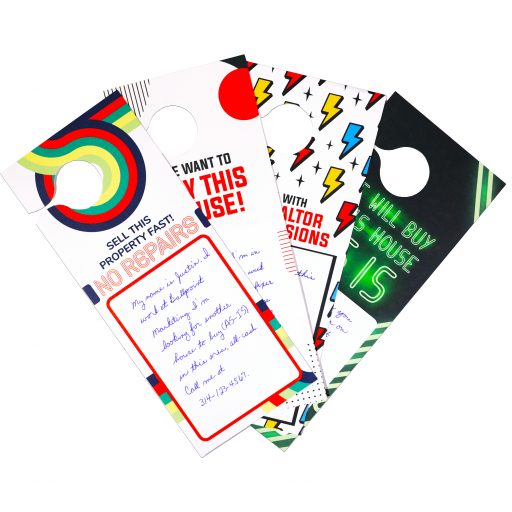 Bandit signs are a popular marketing tactic for real estate investors and wholesalers to use… but there's a reason they didn't make the cut in this article. Namely, because they're illegal. And you put your brand reputation on the line when you use them.
(We get it, though, everyone has to start somewhere)
These door hangers are a great alternative and, in our opinion, are one of the simplest ways for new investors to find deals. Drive for dollars and put these on any properties you find. The phone will be ringing before you know it.
4. Door Knocking
Another option — this one is 100% free aside from any business cards you want to hand out — is door knocking while you drive for dollars.
Instead of using door hangers or sending direct mail, just go knock on the door for properties that appear distressed and say something like…
"Hey, my name is Mike and I'm a real estate investor in the area. I'm just getting to know the neighborhood. If you or anyone you know is wanting to sell their home for cash, here's my phone number. Feel free to give me a call and we'll get them a fair cash offer. We can even close in as little as two weeks."
Remember: how you speak is more important than what you speak.
So think about your tonality, volume, and body language. Make sure that you come off as someone who is reliable and respectable. First impressions happen fast. If you're unsure, practice in the mirror a bit before hitting the streets.
5. Cold Calling
If direct mail is the #1 marketing strategy for real estate investors, then cold calling is a close second.
You can get a cold calling list in the same way you would get lists for direct mail (with the addition of skip tracing… more on that later). Instead of sending direct mail to those owners, you call them.
The key to a great cold call is two-fold:
A great opening line
The ability to sound like a normal person on the phone.
If you can master those two things, you'll be able to build rapport and find deals much easier than your competitors.
Here's a great opening line to get you started…
"Hi. My name is Mike, I work for a group of investors that are looking to buy properties in the area for cash. Do you have a property that you'd be interested in selling? Or maybe would you consider a risk-free no-obligation cash offer from us?"
As for sounding like a normal person and not letting your nerves get the best of you, here are some tips…
Practice. The more you cold call, the better you'll get.
Take a deep breath before each call and relax.
Smile while you're talking, it will come through in your voice.
Be prepared with what you want to say ahead of time so you don't get tongue-tied.
If you do get tongue-tied, just take a step back, breathe, and try again.
End the call on a positive note by asking if there's anyone else they know that might be interested in selling.
It really is that simple. If you can do those things, you'll find deals that other investors don't even know exist. Don't forget to use a dialer (like Call Tools) to make the process 10x more efficient.
Want to see what this actually looks like in actual from one of our favorite REI YouTubers? Here's Lili Thompson…
6. SMS Marketing
We're in the 21st century. People text.
One of the most effective (and underused) marketing strategies for real estate investors is SMS marketing — also known as text message marketing.
This shouldn't be the primary way that you reach out to people (direct mail and cold calling are more direct and typically reach a larger group of people), but it makes a great supplement to your other marketing tactics.
For instance, if an owner hasn't responded to your direct mail or cold calling attempts, you might send a text message instead.
It also works great as a non-invasive way to follow up with leads (more on that later).
7. Skip Tracing
At this point, you might be wondering how you're supposed to get the phone numbers for owners.
That's where skip tracing comes in.
Skip tracing is the process of finding someone's contact information (typically a phone number and/or email address) when you have their name and/or address.
Conveniently, if you're using Propstream, you can pull data and skip-trace it all inside of their software. It costs extra but it's worth it.
Keep in mind, however, that skip tracing is never 100% accurate. You'll need to do a good bit of cold calling to determine if you have the right numbers. And you'll want to track the number of attempts, wrong numbers, right numbers, and all other pertinent information inside a CRM (otherwise things will get messy quickly).
8. Craigslist
Even in 2022, Craigslist can be still used to find motivated sellers.
You can use Craigslist's "For Sale By Owner" section to target owners that are trying to sell their property without using a real estate agent.
Cold call them and see if they're interested in selling their house for cash (or perhaps they know someone who is interested).
It's worth spending at least a little bit of time on Craigslist every week to see what new homes have been posted.
9. Networking
When it comes to finding deals, one of the best long-term things you can do is get to know as many people as possible in your target market.
The more people you know (and the better your relationships are with them), the more likely it is that they'll come to you when they need to sell their property.
Some of the best ways to meet people and network are by attending:
Local REIA meetings
Local investment clubs
Webinars and/or podcasts put on by other investors
Conferences (there are dozens of real estate investing conferences each year)
Meetups
Of course, building relationships takes time. You can't just go to a few events and expect people to start throwing deals your way.
But if you're consistent and put in the work, you'll be surprised by how many quality relationships you can build — and how many deals will come as a result.
10. Follow-Up
If you're not following up with your leads, you're leaving a lot of money on the table.
It's been estimated that only 2% of sales happen on the first contact. The other 98% come from follow-up. That's particularly true when it comes to low-balling homeowners.
Who's going to accept a low cash offer from someone they've never met before on their most important asset?
Very few people.
That's why following up is so important.
It allows you to build rapport and maintain relationships, and it allows the seller to think over your offer. Time passing is often the best salesperson. Let it works its wonders.
The key here is to have a system in place for following up with your leads. You need to know exactly when and how you're going to reach out. This is where a CRM comes in handy.
A CRM will allow you to track your leads and automate your follow-up process. You can set it up so that it sends automatic text messages, emails, or even postcards on a schedule that you specify.
This is an extremely important part of the process and one that's often overlooked by investors. But if you want to close more deals, you need to make sure you're following up with your leads. Not just once… but multiple times over months or even years.
Balancing Direct Mail, Cold Calling, & SMS
As we've explained in this article, the three primary ways that you're actually going to reach out to owners is through direct mail, cold calling, and SMS.
But how do you balance those three strategies?
The best real estate investors don't only do one of those, they do all three. And they keep meticulous track of every time they reach out to a seller, as well as the response they got (or didn't get).
With that information in hand, they're able to track phone numbers that are no good, try different methods, and ultimately contact owners in the way that each owner is most likely to respond.
The fact is, every owner is different in terms of the way they prefer to be reached.
By tracking your marketing efforts and recycling owners and remarketing to them in new ways, you can reach more people and secure more deals.
REsimpli is our favorite CRM for keeping track of everything.
Final Thoughts
Real estate investing is a people business. The more people you can reach out to, the better your chances of finding a deal.
The 10 marketing strategies for real estate investors that we've outlined in this article will help you do just that.
But remember, marketing is only one piece of the puzzle. You also need to have a great follow-up system, savvy negotiation skills, and the ability to close deals quickly.
All of which can be learned and mastered.