As an investor, if you want to make your marketing work for you, having the right lists is critical.
They can mean the difference between you being the 5th investor to contact a lead — or the 1st.
And when you're the 1st investor to contact a lead, it's a lot easier for you to stand out and for your marketing campaigns to be far more effective.
So if you're tired of hearing your leads say they're already working with someone (or, worse, just not answering because they're already working with someone), this guide will help.
In it, we're going to break down exactly what to do to start generating your own lead lists so you're able to become the first investor to make contact with your prospects.
We're also going to show you how to properly manage them and then give you 10 different lists that some of today's most successful investors are tapping into.
What Are Mailing Lists For Real Estate Investors?
If you aren't familiar with what we're talking about here, mailing lists are curated lists of prospects and homeowners that you want to make contact with.
These lists serve as the foundation of your direct mail marketing campaigns.
When done properly, they will be based on a theme or elements that would dictate a seller's motivation levels to help ensure your messaging is dialed into what they're looking for & why they want to sell.
Instead of being filled with random homeowners, in a "spray and pray" format, a good list is built around themes, like pre-foreclosure, absentee owners with high equity, tax delinquencies, or others.
For your marketing to be successful, you want to know who is on each list and why they might be motivated to sell so you're able to personalize your message to them & increase your conversion rates.
Why Are Mailing Lists Important?
With the wrong mailing list, direct mail campaigns can be incredibly expensive — and ineffective.
It's what leads many investors to believe that direct mail just isn't worth the time, money, or effort.
With the right list, though, you can dial in your direct mail campaigns in a major way.
Where most investors go wrong is thinking that a list is just a data dump filled with property addresses and then start mailing anyone and everyone that may own their home.
What smart investors do, though, is drill down into the data to find the RIGHT owners to send their messages out to, using filters like:
Tax Default Status
Vacancies
Expired Listings
Pre-Foreclosures
Out-Of-State Landlords
And more.
Using targeted lists like this ensures that you're only sending mail to prospects that are already motivated to sell in some way, shape, or form.
It prevents you from mass mailing people who may have never been interested in selling their property — which saves you time, money, and gets you in contact with people who will actually listen to your offer.
To help make your lists as effective as possible, check out the tips in the video below:
Then, check out some of the other guides we've put together to show you just how powerful a good direct mail marketing campaign can be — and why it's our #1 preferred lead generation strategy.
And, if you want to save a ton of time, energy, and money, while making your campaigns convert at a higher rate, using our personalized, handwritten mailers is one of the easiest ways to do it.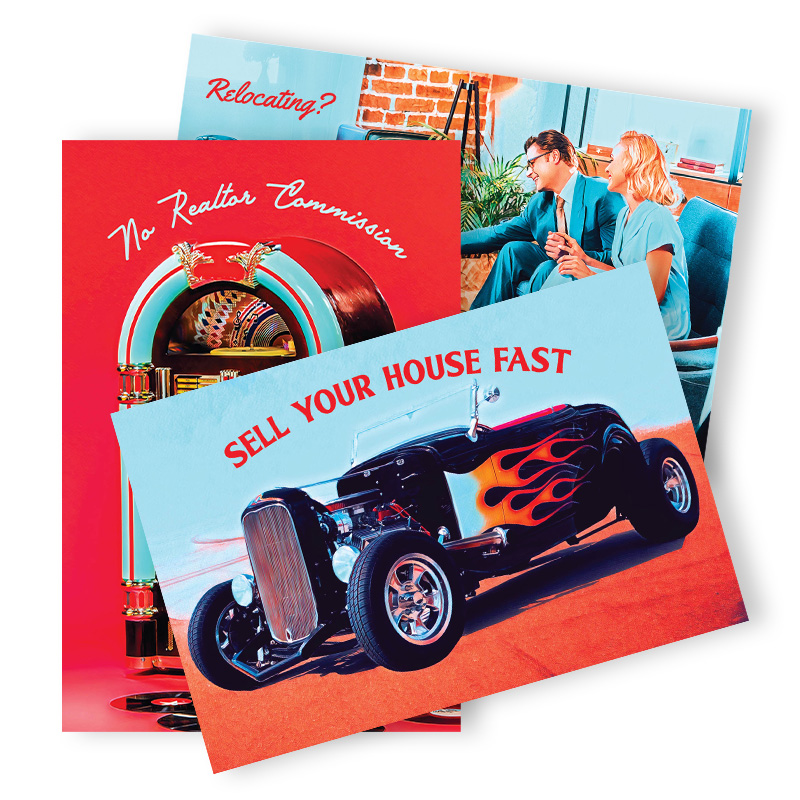 These mailers have been designed from the ground up based on what WE needed from the mailers we were sending out every month.
The end result has been not only more leads generated in our own business, but our clients have generated more leads month-over-month using these mailers, too.
With the right list, the right mailer, and the right system in place, direct mail is incredibly profitable — and remains our #1 preferred lead generation strategy in 2023.
How To Manage Your Real Estate Mailing Lists
One of the biggest keys to making direct mail campaigns work is: organization.
Since you're typically going to be working with large amounts of data, it's absolutely critical for you to keep it organized using a CRM like REsimpi.
A CRM like REsimpli helps you manage your communications with the leads you plug in, monitor your KPIs month-over-month, stack and filter your lists to make them convert even higher, and (more importantly) make it easy for you to stay organized — which makes you more efficient, overall.
The Best Mailing Lists For Real Estate Investors
Now, when it comes to getting the best mailing lists possible, there's two paths you can take.
You can either purchase premade lists from data brokers, or you can build lists yourself.
Since premade lists tend to be resold to other investors, our preferred strategy is using a tool like Propstream to build lists that are customized to who we're looking to target with our campaigns.
With Propstream, you're able to generate HIGHLY targeted lists of homeowners that are exclusive to you.
You can also quickly evaluate properties and run comps so you know the data you're pulling into your list and the leads you're uncovering are worth targeting — and meet your potential profit thresholds.
Then, from directly inside Propstream, you can begin building your marketing campaigns and automations to start getting into conversations with the leads you've generated.
And all of this happens while knowing that the data you're building the lists off of is the most up-to-date possible so you're not wasting time and money contacting owners who sold 2-3 years ago.
With the combination of REsimpli and Propstream, you're able to build highly-targeted lists and keep your operations organized — which is the foundation of every successful direct mail campaign.
And when it comes to building highly-targeted lists of motivated sellers, there's a bunch of different filters you can use based on the goals you have for your business.
Tax Delinquency
If a homeowner is delinquent on their tax burden, chances are high they'll be motivated to sell the property in order to get out from underneath the pressure they're facing.
It can also signify that the owner may be experiencing other financial hardships or that something may have changed in their lives where they could benefit from a cash influx.
Making an offer to purchase their home could be the cash influx they're looking for, making this a win-win for both you and them.
Vacant/Zombie Properties
Any property that has been identified as being in the pre-foreclosure process or has been flagged as vacant by the USPS is also a prime target for your direct mail campaigns.
Since the vacancy and zombie labels tend to let you know that someone has stopped caring for the property, they may be inclined to sell it to you if you make the right offer.
With these lists, you'll want to make sure you're targeting the owner of the property and not the property itself, since nobody will be at the property to receive your message.
Expired/Failed Listings
Expired and failed listings occur when a homeowner has worked with a real estate agent to list their property for sale and the property remains unsold after a significant period of time.
This typically happens for a number of different reasons, ranging from overpricing, poor staging, poor marketing, the agent's lack of experience in the local market, or a combination of all of those.
When it happens, though, you have a small window of opportunity to get in touch with the owner and make an offer on the property before they start reaching out to a different agent.
Pre-Foreclosure
When properties are in the pre-foreclosure stage, the owners have missed mortgage payments and the bank that holds the loan has indicated they intend to foreclose on the property.
Since they're still in the pre-foreclosure stage, though, the homeowner is still in control of the process.
That means they're able to entertain offers from investors and potentially alleviate their financial burden by selling you the property, making the bank whole, and potentially cashing out any equity they've built up.
Pre-Probate
Pre-probate properties are similar to pre-foreclosures but occur when the owner of the home has recently passed away and the property needs to be sold in order to resolve existing debts.
The probate process can be lengthy, in some cases, so it requires a different approach than what you would take with some of the other lists we'll show you, but they still make great investing opportunities.
Contacting these leads also requires a delicate approach due to the sensitive nature surrounding why the house is for sale and working with family members during the grieving process after losing a loved one.
Inheritance/Divorce
When someone inherits a property, whether due to a death in the family or the conclusion of a marriage, their emotional attachment to the property tends to be significantly lower than to their primary residence.
This lack of emotional attachment means you're able to get into conversations with the owners, let them know you're willing to purchase the property from them, and alleviate some stress in the process.
If properties have been flagged as having the owner filing for divorce, you have an opportunity to make their life easier, help both parties involved cash out their equity, and get a great deal at the same time.
Tired Landlords
Finding properties that are currently being rented to tenants, where the owner has owned the property for more than 15 years and doesn't occupy it themselves is another viable strategy.
Since the landlords are probably tired and suffering from landlord fatigue, you're able to get offers in front of them that will let them move into a new chapter in life.
On top of this, since the properties are typically already rented to tenants, you can start cashflowing immediately, or renovate the property and increase the rents down the line.
Bank Owned
Bank owned properties, or Real Estate Owned (REO) are typically foreclosed homes that the bank has already taken custody of.
These lists are full of properties that usually went to auction after the foreclosure process and remain unsold for one of many different reasons.
Since the properties have gone unsold for so long and the bank is merely looking to recoup some of their costs involved in foreclosing and lending on the property, there are plenty of great deals to be found.
Bankruptcy
If a property owner has been identified as filing for chapter 7 or chapter 13 bankruptcy, you may be able to help alleviate some of the financial pressure they're facing at the moment.
By selling the property to you, they'll be able to offset some of the debt, get out from under the mortgage payment, and start moving on with their life once the bankruptcy is finalized.
Final Thoughts
You can tell by the different lists in this guide that starting with the right mailing list is critical to the success of your direct mail marketing campaigns.
If you're looking for additional hacks to increase to conversion rates and see higher ROI from your direct mail campaigns, check out the video below:

Then, remember, while a large part of the success in your campaigns is determined by the quality of the mailing list you're starting with, the other half of that equation is the mailer and message you send.
If you want to make sure you're sending a personalized, handwritten message that's custom-tailored to the list you plug in, designed to stand out in the mailbox and grab attention, and keep people from wanting to toss your mailers in the bin, check out our catalog of proven high-converting direct mail postcards.